Interview of Supporter Stores

Prologue

A Popular Café-cum-Restaurant in Manila that Uses Japanese Food Ingredients in its International Dishes

Quezon City / Philippines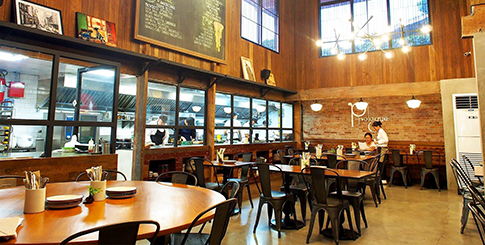 A neighborhood kitchen where people can stop by casually
Prologue is located in an area dotted with bars and restaurants near the heart of Quezon City, the former capital of Metro Manilla, Philippines. It's a café-cum-restaurant serving international dishes based on French and Italian cuisines run by Mr. Meno, a chef who has worked as a head chef successively in Michelin-starred restaurants. When entering the restaurant, you will be impressed to see its clienteles enjoying their meals while being completely relaxed in an atmosphere reminiscent of a spacious lodge. The restaurant aims to become a "neighborhood kitchen" for its customers. "We want this restaurant to be a place for every use where people can stop by casually and eat different dishes for morning, afternoon and evening meals while enjoying conversation with others," says Ariana, the owner of Prologue. The restaurant opens at 8 am and serves a variety of breakfast offerings including American and Japanese breakfast options, all of which are cooked with carefully selected ingredients. Customers who had dined once in the restaurant came back with their families, then again with friends and so forth. In this way, Prologue's client base had grown little by little and it has now become a popular local restaurant.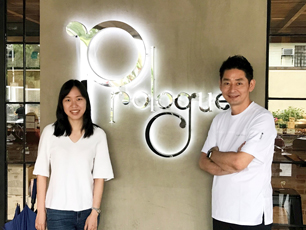 Using Japanese food ingredients and seasonings for cooking international dishes
It is likely that the restaurant's popularity partly stems from the fact that Japanese food ingredients are used in its dishes. "Of the dishes cooked with Japanese food ingredients, scallop risotto, green tea bread and pancake, and freshly baked cakes and breads using fruits produced in Japan such as Orin Apples are especially popular among our clienteles. Upon request, we also make special Japanese dishes using hamachi (yellowtail), tako (octopus), kaki (oysters), ikura (salmon roe) or uni (sea urchin) caught in Japan and offer wagyu steaks using high-quality beef produced within Japan," Meno says. "Beside these dishes, we have some offerings that use Japanese ingredients. For example, we have a dish called Farmer's Salad that uses a plenty of vegetables and some white miso in its dressing. For other dishes, I put some Japanese seasonings such as soy cause, mirin (sweet rice wine), or Japanese Worcestershire sauce as secret ingredients to make them more flavorful and catered to local tastes." What they do at this restaurant is undoubtedly an exemplary attempt to use food ingredients and seasonings produced in Japan and fuse them to create dishes that suit to local tastes.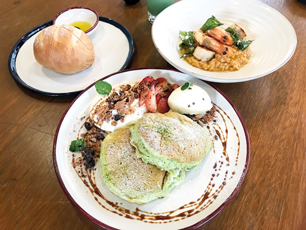 Preferring Japanese food ingredients for their quality and reliability enabled by advanced technology and techniques
When asked why he uses Japanese food ingredients in international cuisine, Meno said, "I use Japanese ingredients partly because I simply love them. Even besides the personal preference of mine, I feel that the Japanese food ingredients are better than those of other countries in terms of freshness and quality." He said that Japanese frozen produce was great in that they could be cooked fresh immediately after being unfrozen. "I don't mean to say that the food ingredients of other countries are inferior. It's just that, even nowadays when all countries in the world are competing fiercely to improve the quality of their frozen ingredients, Japanese food ingredients are a step ahead from others in terms of food quality and safety made possible by the country's advanced technologies and techniques. There has been a growing demand for food that are safe and can be eaten without worry here in Philippines as well, and we can meet such demand by using Japanese food ingredients," Meno added.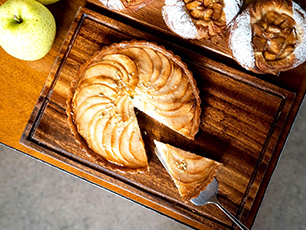 Promoting the use of Japanese food ingredients through multiple store development strategy
Even during the COVID-19 pandemic that has gone on for some two years now, Prologue has been achieving steady growth. Reasons of its success include the fact that the restaurant started an online food delivery service of pasta dishes and other takeaway meals before its competitors did, which enabled them not only to keep its existing customers but also to win new ones, as well as its strength in procuring high-quality food ingredients through its ties with Dough & Grocer, Prologue's affiliated company running an online grocery store specialized high-end food ingredients. Ariana, the owner, and Meno said, "For us, Dough & Grocer is like a huge refrigerator we can always rely on. By utilizing our ties with them, we will continue to procure Japan's seasonal ingredients as well as high-quality foodstuff produced in other countries and offer delicious meals at reasonable prices." By collaborating with Dough & Grocer, Prologue has plans to start establishing multiple restaurants starting with the one in Greenhills Mall, one of the huge shopping malls in Metro Manila. They intend to develop a different menu for each restaurant by reflecting the area's atmosphere and tastes of the residents living in its vicinity. Under this strategy, their use of Japanese food ingredients will likely expand continuously.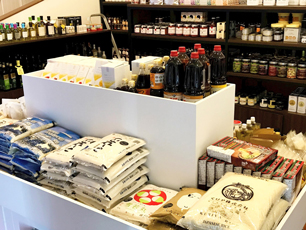 ---
List of shops
Prologue

87 Scout Gandia, Tomas Morato, Quezon City, Metro Manila, Philippines
+63 2 8693 2013
reservations@prologue.ph
http://prologue.ph/
https://www.facebook.com/prologue.ph/