Karaage (deep-fried chicken)
Ingredients
2 servings servings
300g chicken thigh
1 tbsp soy sauce
1/2 tbsp sweet sake
10g ginger
10g garlic
1/6 tsp pepper
3 tbsp flour
2 tbsp potato starch
appropriate amount of salad oil
lettuce, lemon for taste
Seasoned chicken is juicy on the inside and crispy on the outside.
Drain the marinated chicken before frying is the key for crispy taste.
How to make it
Grate ginger and garlic. Cut the chicken into 5 cm square.

Put the cut chicken on a tray. Rub it into soy sauce, sweet sake, grated ginger and garlic, and pepper. Leave at room temperature for 20 minutes.

Drain the marinated chicken. Mix flour and potato starch in a different tray and coat the chicken with flour and potato starch.

Heat the salad oil at the temperature of 170℃ in a frying pan. Fry the chicken until brown.

Put the fried chicken in a serving dish with some lettuce and lemon.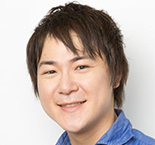 Go Igarashi
/
Cooking Specialist
Igarashi is a young cooking specialist, who is seen in media widely from magazines to televisions. The multi-talented specialist is involved in a range of activities including recipe development, writing columns on nutrition, nurturing chefs, and conducting lectures, etc.
He is the president of the FoodCreativeFactory Corporation