Matcha-flavored Flockensahne Torte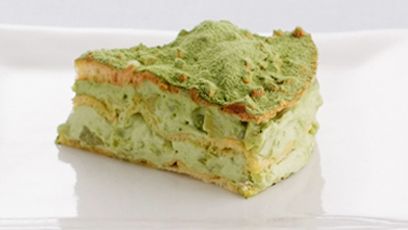 Ingredients
Ingredients make approximately 4 servings. servings
Choux pastry
Egg, beaten: 3
A [Water: 60cc(approx. 4 tablespoons)、Butter: 50g(approx. 3.5 tablespoons)]
B  [Sugar: 1/2 teaspoon, Salt: pinch, Soft flour: 70g(approx. 2.5oz.)]
Fresh cream 200cc(approx. 1 cup)
C [Matcha powder: 1 tablespoon, Sugar: 2 tablespoons]
Marron glace: 8 pieces
D [Matcha powder: 1 tablespoon, Icing sugar: 3 tablespoons]
Almonds, slivered 2 tablespoons
This is a fusion of a traditional German cake and Japanese matcha green tea powder. The bright green color is visually appealing, and the distinctive bittersweet flavor of the matcha enhances the richness of the fresh cream. it is perfectly acceptable to fill choux pastry with matcha cream alone, but its flavor is further enriched with the addition of marron glace.
How to make it
Place A in a saucepan and heat. Once it comes to a boil, remove it from the heat, add B and mix until the dough forms a single lump.

Gradually add beaten egg to 1. while stirring well with a wooden spatula.

Lift the wooden spatula in 2, and when the mixture is soft enough to drop from it, spread it thinly over a baking sheet in a circle about 15cm in diameter. Make 3 of these. Sprinkle finely chopped almonds on one pastry sheet only. Bake in the oven at 200 ℃(392°F) for about 15 minutes until brown.

Combine C and dissolve with a small amount of hot water. After combining with fresh whipped cream, add finely chopped marron glace and fold through the mixture.

Spread the matcha cream over one of the baked choux pastry sheets, place one more sheet of choux pastry on top and cover it with another layer of matcha cream. Finally, place the almond-topped choux pastry on the top layer and sprinkle the combination of D over the whole surface.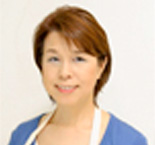 Masae Furutani
/
Food Researcher
Has studied international food culture extensively including Japanese, Western and Chinese cuisine, and confectionery. Currently lectures at cookery schools, holds seminars and also develops new dishes for food companies.