Chirashi-zushi (scattered sushi)
Ingredients
For two people servings
Rice 200g
Water 280ml
Dried kelp 5 x 5 cm
Vinegar 2 tablespoons
Sugar 1 tablespoon
Salt 1/6 teaspoon
Wasabi 1/3 teaspoon
White sesame 1 tablespoon
Egg 2
Salt A pinch
Asparagus 2
Smoked salmon 70g
Soy sauce 1/2 tablespoon
Sesame oil 1 teaspoon
The colorful sushi is good for decoration and eating. Enjoy making one with your family and friends.
Dried kelp adds a great tastiness to sushi rice and makes the sushi even more delicious. Topping with three ingredients, which are salmon(red), eggs (yellow) and asparagus (green) make the sushi appealing to your eyes.
How to make it
Cut the root of the asparagus off and peel the skin off the bottom part. After cooking it in boiled water for one minute, place it in cold water before cutting it into pieces 1cm wide. Add soy sauce onto smoked salmon.

After washing rice, place it in a fry pan and cover it after adding water and dried kelp. Cook it with a high heat, then turn down to low and cook for 20 minutes after it starts bubbling. Turn the heat off, then leave it for 10 minutes with the lid on.

Mix vinegar, sugar, salt, wasabi, and white sesame in a bowl.

Add rice into the bowl (3).

Beat the eggs with a fork in a bowl while adding salt to it. Grease a fry pan with the sesame oil, turn up to a medium heat and add the eggs to cook until scrambled with tongs.

Serve the rice (4) on a plate, then top it with the egg (5), asparagus and smoked salmon.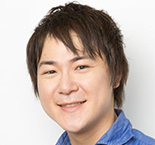 Go Igarashi
/
Cooking Specialist
Igarashi is a young cooking specialist, who is seen in media widely from magazines to televisions. The multi-talented specialist is involved in a range of activities including recipe development, writing columns on nutrition, nurturing chefs, and conducting lectures, etc.
He is the president of the FoodCreativeFactory Corporation