Oyako-don (bowl of rice topped with chichen and egg)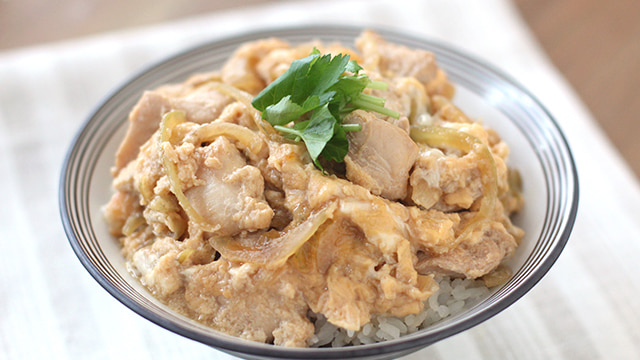 Ingredients
For two people servings
Egg 2
Chicken breast 150g
Soy sauce 1 teaspoon
Onion 1/2
Japanese honewort 5g
Stock 100ml
Soy sauce 1 tablespoon
Sugar 1 tablespoon
Sake 1 tablespoon
< For stock >
Water 1000ml
Dried kelp 10g
Dried bonito 20g
< Rice >
Rice 200g
Water 280ml
The flavor of glutamic acid (in soy sauce) improves the tastiness of the chicken thigh. Try not to overcook the eggs. Softly cooked eggs provide a great texture to your mouth. The leftover stock can be used for miso soup, etc. Green onion can be used instead of Japanese honewort by cutting it 7mm wide.
How to make it
Place the dried kelp in a pot with water after wiping it with a wet paper towel, then leave it for an hour. Cook over a medium heat, then turn it off and remove the dried kelp once it starts boiling. Add the bonito into it and leave for 2 minutes. Strain the stock into a bowl through a strainer with a paper towel on it.

Place rice in a fry pan after washing it, then add water. Cook over a high heat. When it starts bubbling, cover with a lid and cook over a low heat for 20 minutes. Turn the heat off, leave it for 10 minutes, and mix it from the bottom to the top.

Slice the onions thinly. Cut the Japanese honewort 3cm wide. Slice the chicken 7mm thick, and rub soy sauce onto it.

Place the stock (100ml), soy sauce, sugar,and sake in a pot and cook over a medium heat. Add the onion to it and cook until it starts to boil again. Then add the chicken and cook for 2 minutes.

Pour the beaten eggs in a circular motion in the center of the pot towards outside. Cook for 30 seconds with a lid on before turning the heat off. Then leave it for 30 seconds.

Serve rice in a bowl and top it with (4), and put in some Japanese honewort.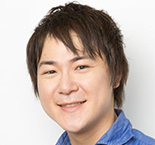 Go Igarashi
/
Cooking Specialist
Igarashi is a young cooking specialist, who is seen in media widely from magazines to televisions. The multi-talented specialist is involved in a range of activities including recipe development, writing columns on nutrition, nurturing chefs, and conducting lectures, etc.
He is the president of the FoodCreativeFactory Corporation