Japanese rolled omelet
Egg 4
Broth 150ml
Thin soy sauce 2 teaspoon
Sugar 1/2 tablespoon
Sweet sake 1/2 tablespoon
Appropriate quantity of salad oil
Some thin soy sauce and sweet sake makes the rolled omelet tasty. The broth spreads in your mouth when you eat.
How to make it
Lightly beat an egg in a bowl.

Add broth, thin soy sauce, sugar, and sweet sake in the bowl and mix.

Strain the egg mixture.

Spread 1/2 tsp salad oil over the pan. Heat the pan over a medium heat until you hear the sound of the egg mixture setting.

Put 1/5 of the egg mixture evenly on the pan.

When each side of the egg mixture starts to set, quickly move the set area of the mixture to the center with a spatula. Cook until the mixture is evenly half-boiled.

Roll the mixture from the back toward you and shape it.

Slide the shaped egg to the back. Spread 1/4 salad oil in the front of the pan.

Pour the egg mixture in the exposed area of the pan and spread the mixture under the rolled omelet.

Roll the mixture from the back toward you when the mixture is half-boiled.

Repeat the direction 8-10 and finish to cook.

Put in on the wrapping film and wrap. Leave it for 5 minutes and shape.

Cut it into easy-to-eat size.

Place on the dish and serve.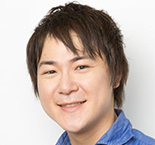 Go Igarashi
/
Cooking Specialist
Igarashi is a young cooking specialist, who is seen in media widely from magazines to televisions. The multi-talented specialist is involved in a range of activities including recipe development, writing columns on nutrition, nurturing chefs, and conducting lectures, etc.
He is the president of the FoodCreativeFactory Corporation