Miso Soup with Chicken and Vegetable(Kenchinjiru)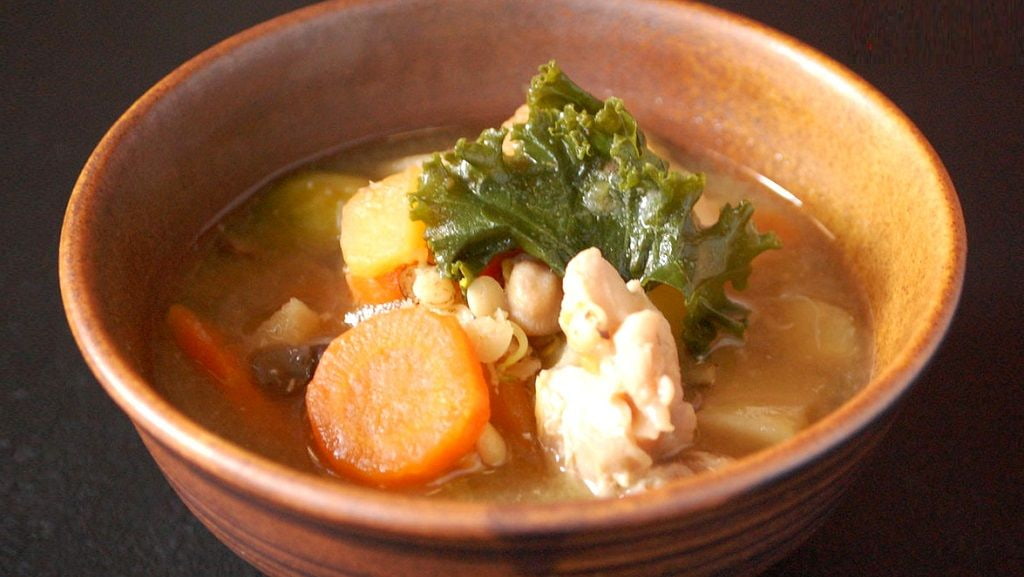 Ingredients
Serves 4 portions in Western soup bowls [approx. 252kcal (1058kJ)/person] servings
・Kombu (dried kelp) stock (1.5l water and one 5cmx5cm piece of kombu)
・200g chicken thighs
・Vegetables A [300g potatoes, 100g carrots, 100g mixed beans (from tin), 100g leeks, 60g brown mushrooms]
・Vegetables B [150g butternut squash, 40g kale]
・150g miso paste
・15g bonito soup stock powder
・5ml soy sauce (optional)
・5g sesame oil (optional)
You can try making it with any seasonal vegetables you may have to hand, according to your taste.
A miso soup base consists of a combination of miso paste and soup stock.
Traditionally, a kombu (dried kelp) or bonito fish stock is used, but if these are not available, you can substitute them with chicken stock.
A vegetarian miso soup is also easy to make, using vegetable stock.
How to make it
Pour 1.5l of water into a bowl, add the pre-rinsed piece of kombu to the bowl and leave to soak for 30 minutes.

Heat the sesame oil in a deep soup pan, add the chicken and "vegetables A" , and sauté for 3 minutes.

Pour the water and kombu (from step 1) into the soup pan and bring to the boil. Remove the kombu just before the broth mixture reaches boiling point.

Once the broth mixture has come to the boil, reduce to medium heat and simmer for 10 minutes. Add "vegetables B" to the pan, and simmer for another 10 minutes before turning off the heat. Skim off any foam.

The miso paste should be added at this point. However, rather than stirring it directly into the broth, scoop it into a ladle first, and dip the ladle into the broth. Use a spoon to gradually incorporate the miso paste from the ladle into the broth until it has dissolved evenly.

Season the broth to taste with the bonito soup stock powder and soy sauce. Warm up the broth to a gentle simmer on a medium heat before serving, taking care not to let it boil.