Mizore Beef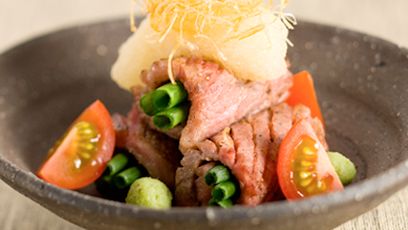 Ingredients
Serves 4 servings
200g sliced beef
1/4 bunch shallots
1/4 daikon radish
Salt and pepper to taste
A [90cc katsuo (bonito) stock , 30cc mirin, 30cc light soy sauce, 60cc rice vinegar ]
(If available) Cherry tomatoes, wasabi and shallot to taste
A refreshing beef dish. In this recipe, the beef is wrapped around shallots to add a crispy texture. Do not overcook beef as it will become tough.
How to make it
Lightly score the beef and sprinkle with salt and pepper.

Heat pan and quickly heat beef on both sides.

Slice the shallots into 4 to 5 cm lengths and then wrap around cooked beef.

Quickly boil mirin in A , cool and add to other ingredients.

Grate daikon radish (using a grater if available), squeeze daikon to extract moisture and then blend daikon with 4.

Place beef in 3 on plate and top with 5.

Top with cherry tomatoes, wasabi and fried sliced shallots.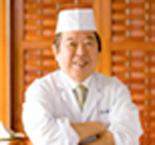 Owner of" Komei Ariake." One of Japan's leading chefs of Japanese-style cuisine who gained popularity on television as an "Iron Chef."