Stewed giblets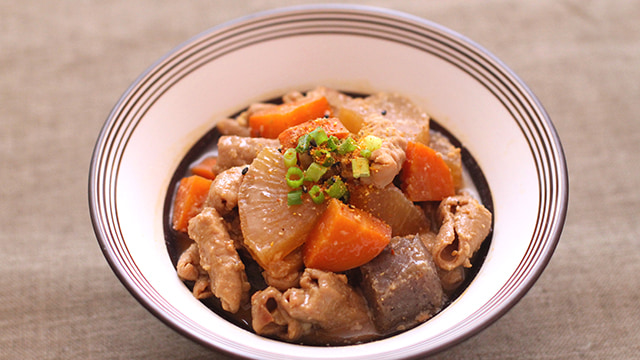 Ingredients
For two people servings
Pork giblets 150g
Daikon radish 1/8
Carrots 1/2
Konjac 1/2
Ginger One thumb size (10g)
Spring onion 1
Water 400ml
Dried kelp 5x10cm
Miso paste 1+1/2 tablespoons
Mirin seasoning 2 tablespoons
Soy sauce 1 teaspoon
Shichimi chili pepper Appropriate amount
Pork giblets can be enjoyed for their tastiness after removing the strong flavor by cooking it in boiled water. Adding miso paste twice enhances the flavor of miso. Shichimi pepper adds chili flavor to make the flavor of the dish more crispy.
How to make it
Remove fat from the pork giblets before cooking them in boiled water for 1 minute. Drain it with a strainer. Peel the skin off daikon radish and carrots and cut them into 1cm-thick quarter circles. Tear konjac with hands into bite-size. Slice a thumb of ginger thinly. Cut the spring onion into 7mm-wide pieces. Wipe dried kelp with wet paper towel to remove dust.

Cook water, kelp, miso paste (1 tablespoon), mirin seasoning and soy sauce over a high heat and bring it to the boil. Then add pork giblets, daikon radish, carrots, konjac, and ginger.

Continue cooking until the amount of the soup becomes 1/3 of the beginning. Remove scum as you cook.

Dissolve the remaining miso paste (1/2 tablespoon) into the soup.

Serve in a bowl by adding the spring onions and shichimi chili pepper.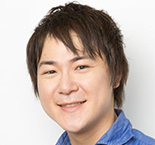 Go Igarashi
/
Cooking Specialist
Igarashi is a young cooking specialist, who is seen in media widely from magazines to televisions. The multi-talented specialist is involved in a range of activities including recipe development, writing columns on nutrition, nurturing chefs, and conducting lectures, etc.
He is the president of the FoodCreativeFactory Corporation