Interview of Supporter Stores

TOKYO-YA

The major Japanese foodstuff retailer in Spain continues to grow through courteous service

Madrid / Spain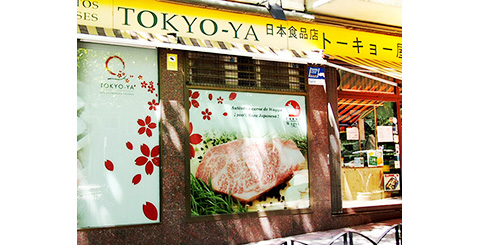 Main store visitors have shifted from Japanese to Spanish
TOKYO-YA was founded in Madrid, Spain, in 1981, and it is now a major importer/wholesaler/retailer of Japanese food ingredients in Spain, having two retail stores (Madrid and Barcelona), wholesale offices, and distribution bases in four cities (Madrid, Barcelona, Valencia, and Lisbon in Portugal) and a Japanese sake bar, "Shuwa," in Madrid, as of 2017.
This time, we interviewed Mr. Hironobu Sato, the president, about their retail store in Madrid. When he joined the company in 1983 (two years after the opening of the store), 99% of the customers were Japanese; however, the number of Spanish customers visiting their stores has increased since around 1995 when oriental food culture started to spread, and currently, about 90% of the customers are Spanish. As of 2017, they handle 1,500 to 2,000 food items procured from Japan including the ones for commercial use, as well as about 150 kinds of Japanese sake.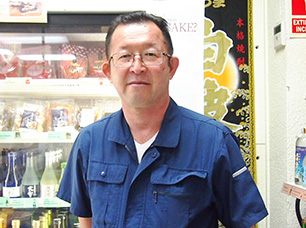 As an importer, they also assume a role of promoting Japanese food culture
A wide variety of items in the store already attracts customers, but even more eye-catching are the point-of-purchase displays explaining the food ingredients and Japanese food recipes that are put up at many parts of the store. According to President Sato, the feature of their store is that they "do not merely sell items but try various ways to promote Japanese food, as a store that sells food ingredients from Japan and has Japanese staff." In fact, they are very thoughtful in many aspects as they treat Spanish customers, and the store employees always explain the food ingredients.
In the store, a tasting booth is set up next to the cashier, and the plates for tasting are also set at each shelf. Furthermore, they promote items in various ways, including preparing an iron plate at the store entrance to cook dorayaki, a sweet pancake sandwich with sweet red beans filling, in front of customers. In addition, seizing the opportunities of raising the profile of Japanese food, they take part in exhibitions, demonstrate how to make sushi rolls (maki-zushi) at a supermarket, and organize Japanese sake tasting events, expanding their activities outside of their stores.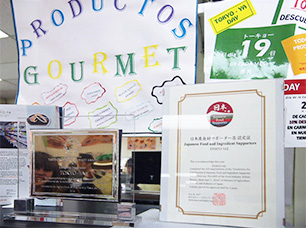 From the perspectives of a Spanish employee
Noelia, a Spanish employee who joined the company three years ago and works as a salesperson, is one of those who work toward raising the profile of Japanese food. According to her, top-selling items are the ingredients for sushi, such as rice, dried laver seaweed (nori), and soy sauce, followed by instant miso soup, ramen noodles, and green soybeans (edamame). Responding to the increase of customers' demand for such items, the shop also handles gluten-free products for celiac disease patients who are frequently seen in Spain, as well as other items produced through a better manufacturing process. As a result, the shop has been widening the range of items. She also says that, at their store in Madrid, shirataki noodles also sell well, after a renowned doctor has unveiled a pasta recipe using shirataki noodles as diet food. The sales of the ingredients for fried noodles (yakisoba) are also expected to increase in the near future. "For customers who want to prepare yakisoba, I usually recommend not only noodles and sauce, but also dried green laver flakes (ao-nori) and dried bonito flakes (katsuobushi) as well," she says.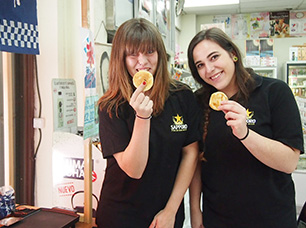 Increase of local sake fans and the wider recognition of Japanese sake
At TOKYO-YA, the main line of products used to be the country-wide sake brands until some years ago; however, with the booming of Japanese food and the increase in the number of travelers to Japan, local sake brands are becoming more popular, resulting in its increased sales. As Spanish people know wines very well, they are also particular about the taste of Japanese sake. Furthermore, as many wine sommeliers are interested in Japanese sake, the store organizes a seminar by a shop employee who has a qualification of sake sommelier (kikisake-shi). In contrast, quite a few people avoid sake as they mistakenly think that sake is the same as gin, which has high alcohol content, since sake is colorless and transparent. President Sato says, "We would like to promote sake in a step-by-step fashion, by explaining that sake contains only a little more alcohol than wine and is easy to drink." In addition to the local sake boom, the production of sparkling sake and sake-based liqueur with fruit flavor are increasing, and the local restaurants that offer creative cuisine are starting to add Japanese sake to their drink menu. Against this backdrop, the store, which also runs the Japanese sake bar, is seeking opportunities for further expanding the market for Japanese sake.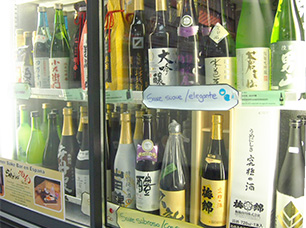 High expectations for the product development that matches the EU standards
On the prospects for the future, President Sato thinks that it would be essential to have a good coordination between Japan that wants to export items and the EU that wants to control imports. The EU has strict import regulations, and compared to other countries, many items cannot be imported because they use certain pesticides or contain certain animal products. As a result, products manufactured by Japanese companies in Europe are distributed more in the market than the food ingredients from Japan. Furthermore, while in the EU, products usually carry expiration dates, and in Japan, they generally carry best-before dates that are shorter than expiration dates. Such shorter length of best-before dates can also be an obstacle for the import. President Sato says, "If these issues are resolved, I have a lot of food items that I would like to import." He has high expectations for the increase of imports following the conclusion of the EPA between Japan and the EU, and the increase in the number of products that are developed and manufactured for export purpose.