Marukyu Koyamaen is located in Ogura, Uji, Kyoto, renowned as the tea capital of Japan. The scent of grassy, roasted tea wafts through the air as you approach its head office and factory. The shop, attached to the head office and set aside in a quiet, discreet residential area, is always bustling with nearby residents who come to stock up on their favorite tea – clearly demonstrating the love local people have for the Marukyu Koyamaen brand (the shop was never empty throughout the interview). Right at the entrance is an old-fashioned reception room for welcoming visitors, fitted out with an iron kettle atop a brazier that is kept on the boil. "At our place, nothing would start before a cup of tea." After being welcomed with a bowl of elegantly formed matcha and sweets, the interview began.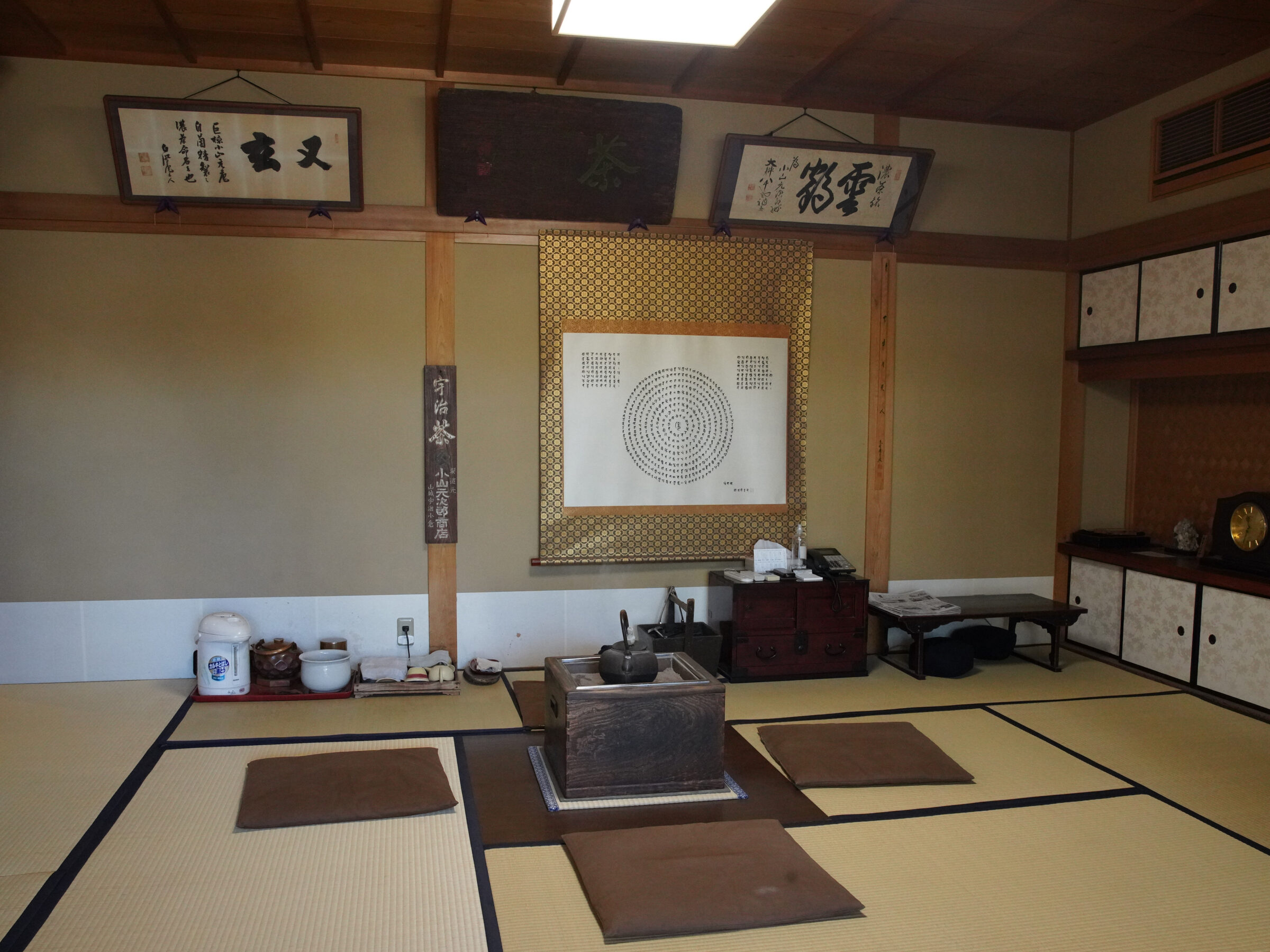 High quality, the top priority. Easier said than done!
Marukyu Koyamaen is particularly renowned for its high-quality matcha. Distinguished shrines and temples all over the country are listed as its customers, and the masters of each tea school of Japanese tea ceremony use it, regardless of the school. Over the years they have notched up numerous prestigious awards, including winning 1st prize 22 times in the National Tea Competition (the most prestigious annual event that judges on the quality of tea harvested and submitted from all over Japan). "Making teas with quality as the highest priority – that is our motto." This, states Toshimi Koyama (senior managing director), is the sole secret to the brand's success. It must have taken very high levels of determination and enthusiasm to produce tea of such outstanding quality and with such consistency over the three centuries since its founding. Motoharu Koyama, the older brother and the head of the company, visits the tea plantation every day to check on the condition of his tea plants, for which he uses all five of his senses. Based on his long-standing experience and interaction with his plants, he also determines the timing for each of the succession of delicate steps that make up the tea-making process, some of the more familiar being when to shade the plants with reeds called yoshizu, the key to cultivating tencha (the basis of matcha), when to adjust the shading by covering with rice straw, and the time to start plucking the leaves in spring. As one might expect for high quality tea, the tea leaves are hand-picked the old-fashioned way. They are steamed and then dried in an ages-old brick oven, or tencha-ro. In this process, the oven emits warming rays in the far-infrared spectrum, imbuing the tea with a unique aroma. The finished leaves are then tested, tasted, and blended in a black-lacquered tea screening room with large windows carefully placed to control lighting conditions. Here, Motoharu and other outstanding tea masters focus their senses to decipher the finely nuanced differences in tea leaf flavor, aroma, and color, and then perform intensive tasting before finalizing each tea. They appeared to be absorbed in an otherworldly state of calm and focus, much as one might expect of Buddhist monks performing a sacred ceremony. One of the masters, Shinsuke Koyama, comments that "Customers who have patronized our tea for many years are sensitive to even the slightest change in taste. We want to meet their expectations."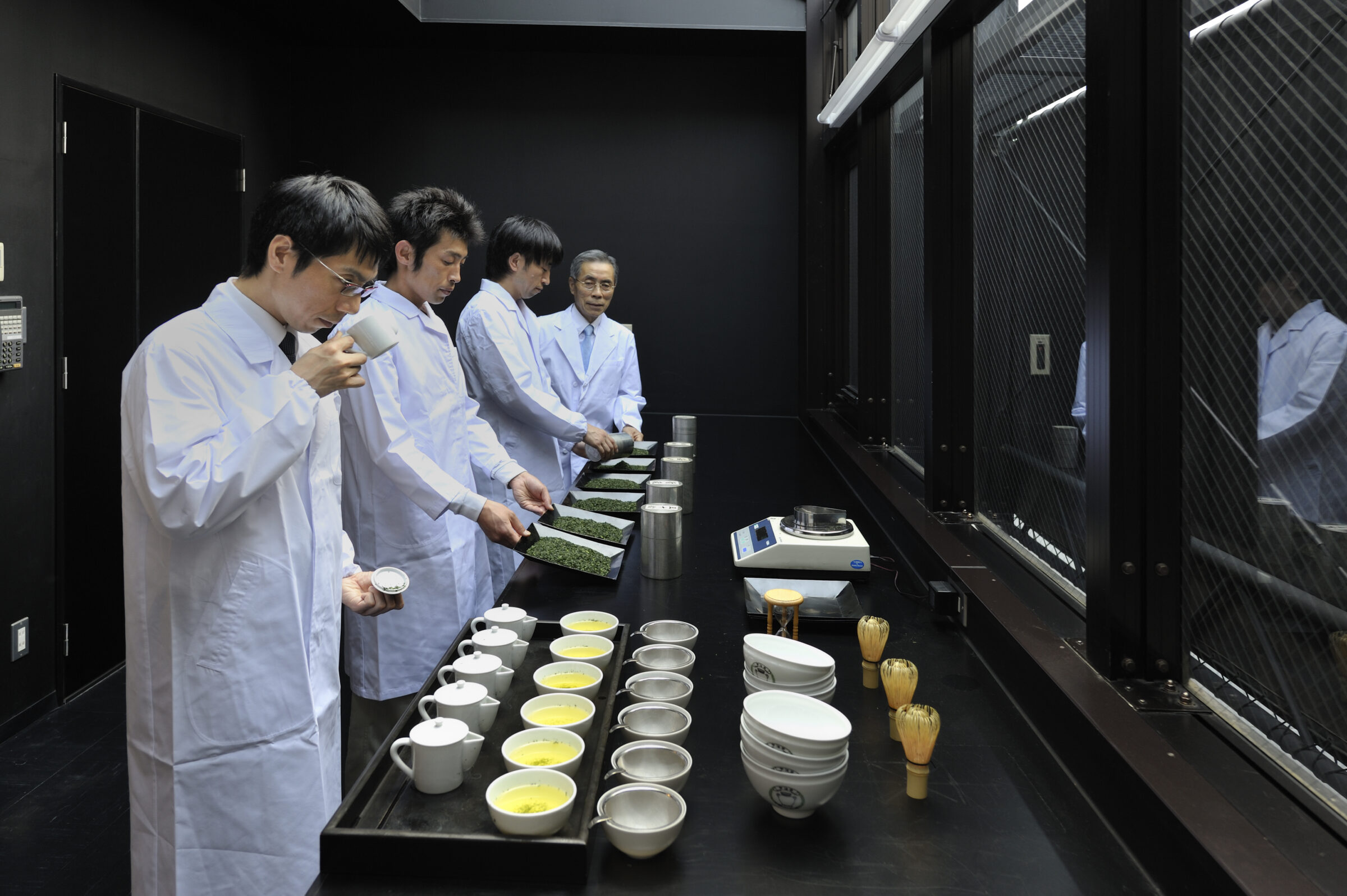 Through creativity and innovation, truly delicious tea becomes truly inclusive.
The health benefits of Japanese green tea are now even attracting attention outside Japan, but its relaxing effects should also not be overlooked. Once, not long ago, cherishing a few moments with one's family over a cup of Japanese green tea used to be a daily occurrence, but this habit is now sadly disappearing in today's busy world. A room known as a chanoma was also once commonly used for family gatherings, serving guests, and spending spontaneous quality moments together. "My wish is for more people to drink truly delicious tea," proclaims Toshimi. That is why at Marukyu Koyamaen they're also devoted to ingenuity, with a view to anyone being able to enjoy a delicious cup of tea regardless of their needs. If there is a call for less caffeine tea from their overseas customers, then they comply. They've created a tea free of potassium, making it safe for people with specific illnesses to enjoy. For their Jewish clientele they obtained Kosher certification, and for the casual drinker they developed tea bags with unusually high-quality tea. For the patented matcha that foams when whisked with cold water, Toshimi's recommendation is, "You can enjoy matcha even with cold water. For example, when you're hiking it tastes just great!" The firm's innovations, backed by a solid tradition and confidence in the quality of its products have enabled it to meet wide-ranging tea lovers' needs.
In terms of sustainability, 20 years ago, before the word had even entered our daily consciousness, they were making tea bags from an earth-friendly corn-derived material. Such efforts help their customers to continue enjoying delicious Japanese green tea. Tea is inherently very sustainable as nothing is wasted, not even the leaves or stems. Parts of the leaves as well as powders resulting from production processes that are unsuitable for drinkable products are used to make tea incense, bath additive or soaps, as well as feed for livestock. "Matcha soap is actually popular among those with sensitive skin," Toshimi comments. Nothing, indeed, goes to waste. Impressive as this list already is, it seems their "Mottainai Series" (nothing is wasted) can only carry on growing.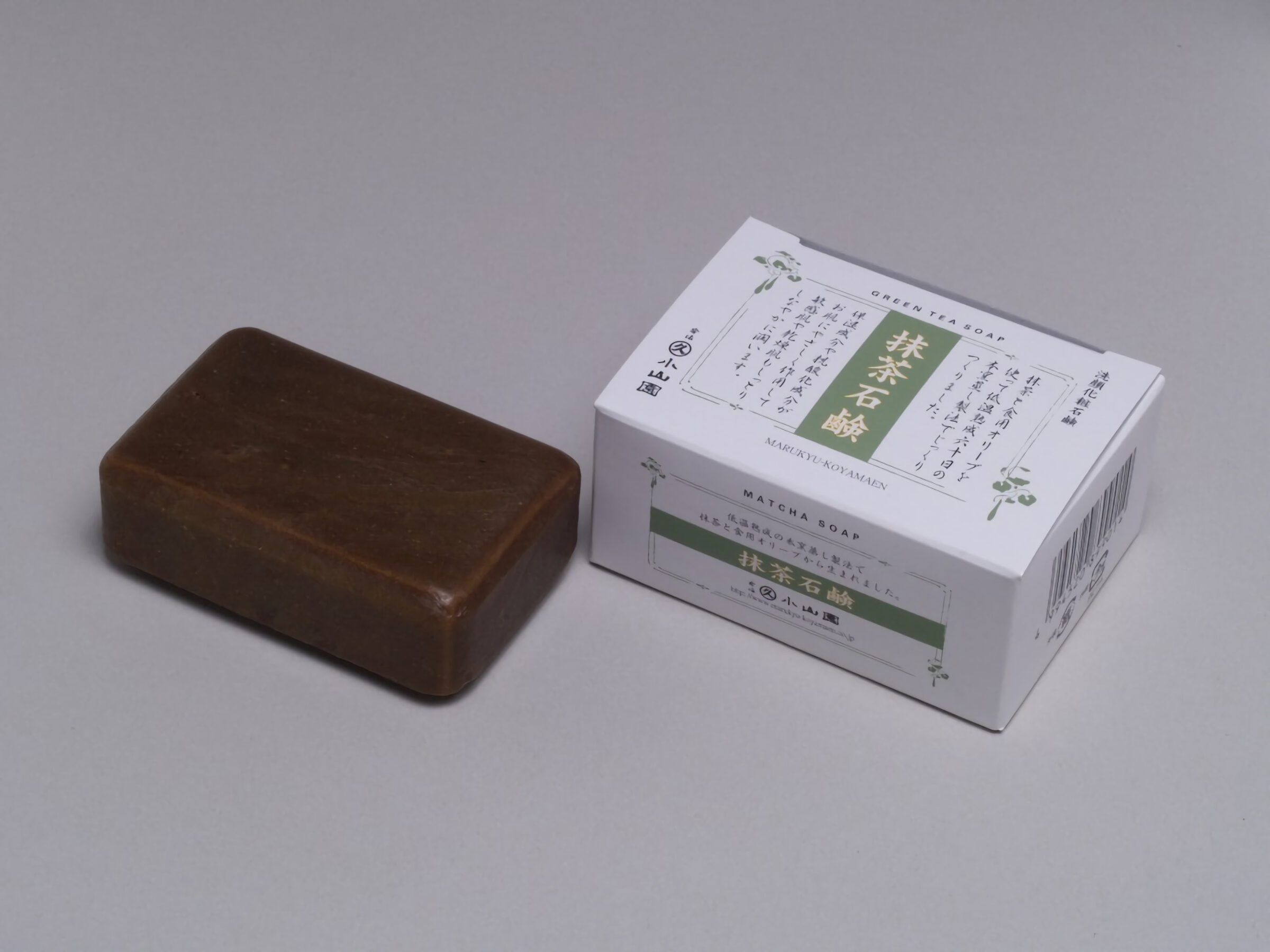 A home for Japanese traditions as well as a hub of innovation.
An interesting parallel could be drawn between Marukyu Koyamaen's tea production and the status of its locality – Kyoto. While Kyoto served as Japan's capital for over a millennia, the city also acted as trendsetter for the nation's art, food, fashion, and lifestyle – its culture, and is still considered Japan's cultural capital today. It is also the birthplace of the Way of Tea. In fact, everything started and spread from this city. People aspired to come here, and then nurtured its culture, and have also inherited it in the form of traditions; which is to say that trends and innovation themselves became a tradition, which has gone on to inspire its population to continue innovating. Marukyu Koyamaen's attitude of challenging the cutting edge can be seen as proof of this.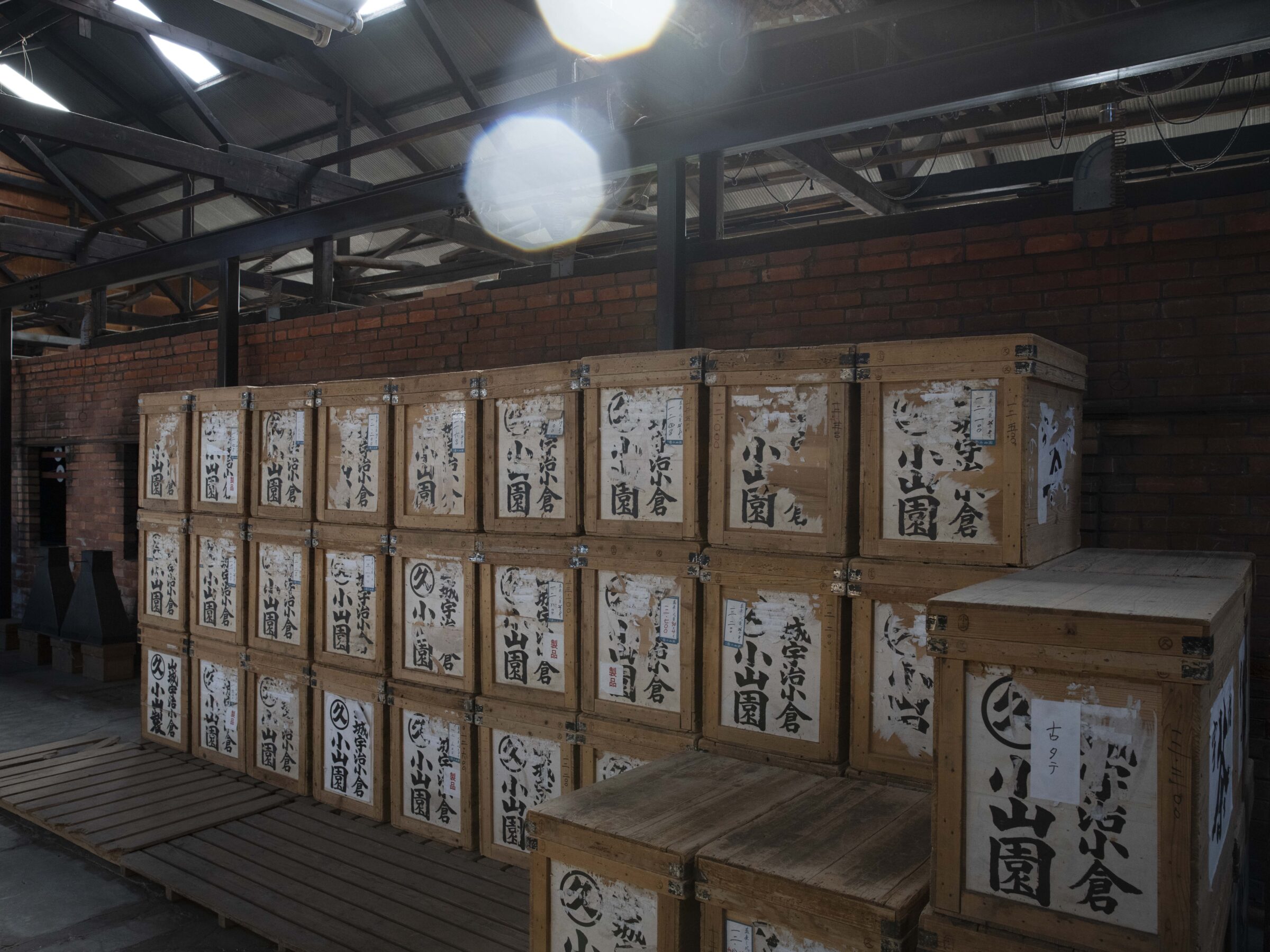 True quality. True pride.
In this capital of tea, tradition underpins the facets of daily life, yet tradition itself is a continually evolving process. It is against this backdrop that Marukyu Koyamaen, which prioritizes the 'quality' of 'deliciousness,' calmly and methodically takes on the challenges of the future. Toshimi ends with this final comment, expressed in humble words brimming with confidence, that "We would be happy if the tea you drunk and found delicious were our tea."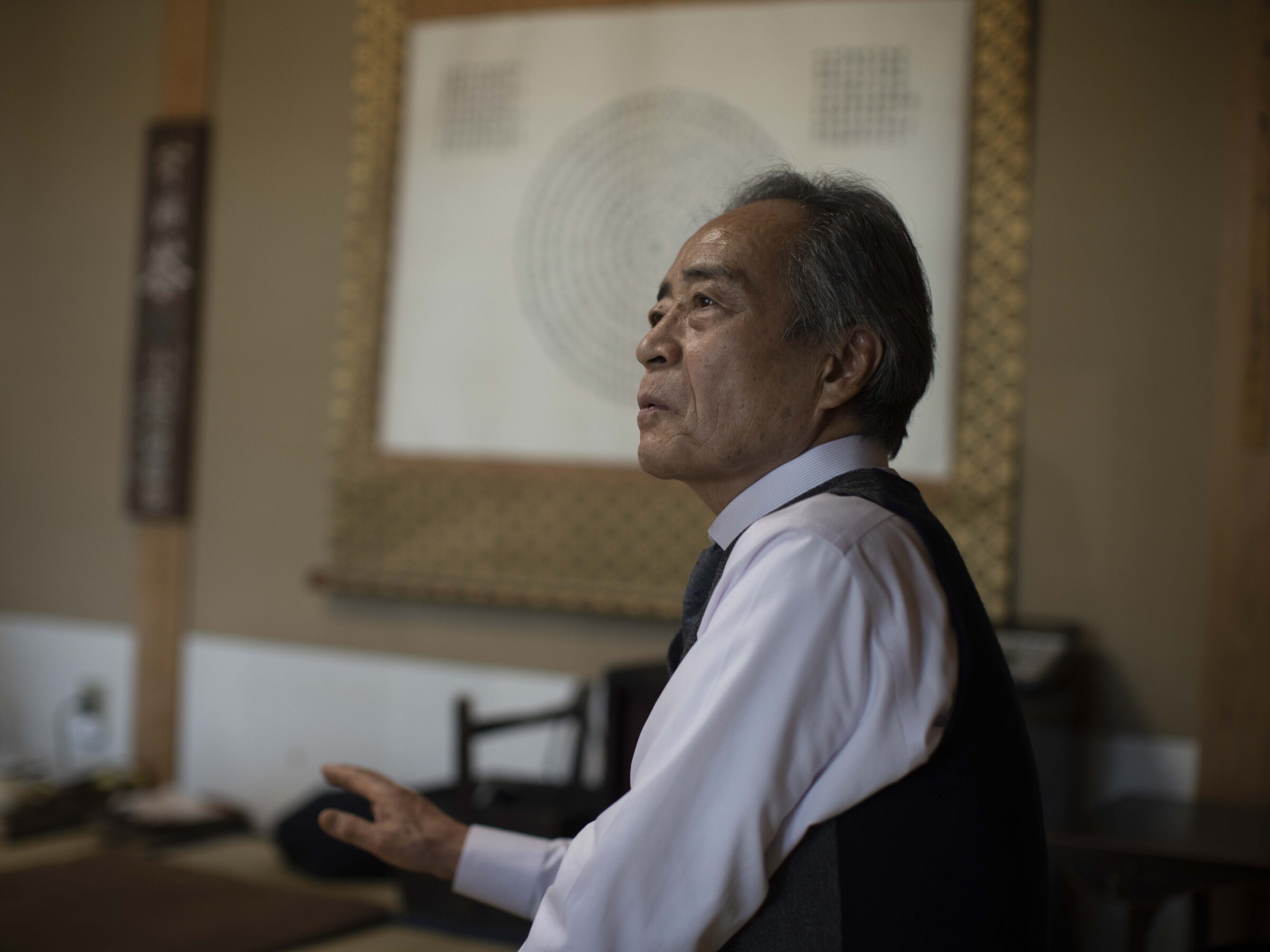 Marukyu Koyamaen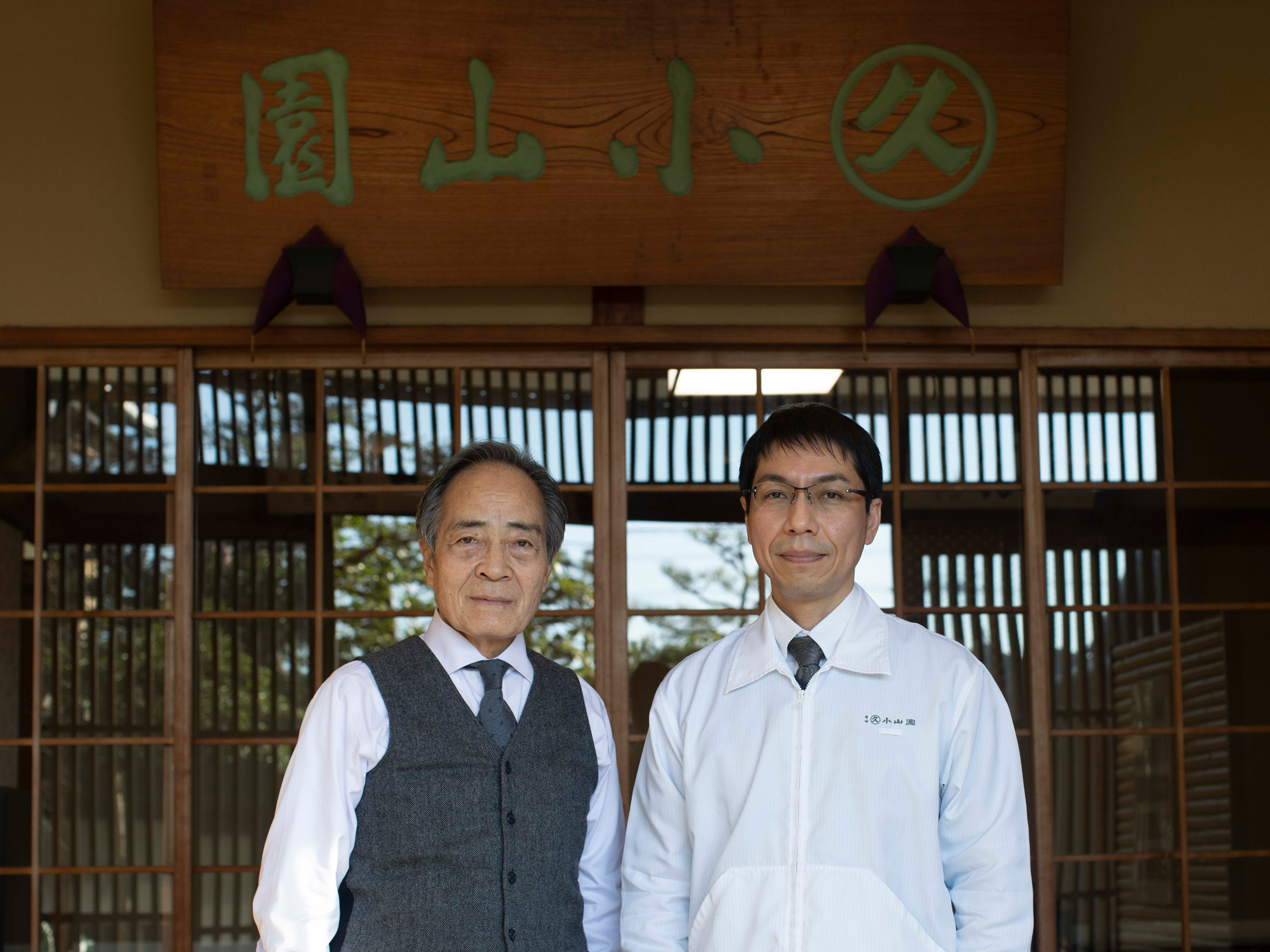 Marukyu Koyamaen is a highly regarded tea grower, procurer and tea blender located in the heart of Uji, Kyoto. The company's private tea estate has a rich history dating back to 1704. Marukyu Koyamaen offers an unrivalled selection of Japanese green tea, created using a refined combination of modern and traditional processes. The company supplies matcha and other elegant teas to first class hotels, high ranking shrines and temples, as well as the most established tea schools in Japan. Marukyu Koyamaen has also extended its suite of products to include food-grade matcha for sweets and desserts, mostly supplied to gourmet supermarkets.