Japanese green tea has truly earned its title of being a superfood. The plethora of health benefits and the mental benefits truly help people become calmer, more focused, mindful, and assist them on their journey to simplify their lives. But, it's not just good for the mind, body, and soul… it's also a true "superhero" for the planet as well.
Case in point: Tea cultivation has a lower carbon footprint than many other crops, including coffee beans. Studies have shown that it takes 37 gallons of water to make an 8oz. cup of coffee and only eight gallons to make a cup of tea. Additionally, the milk in a cup of coffee creates more CO2 than simply boiling the water for green tea.
Companies such as the Sugimoto Tea Company, a third generation tea maker based in Shizuoka, Japan, are creating innovative ways to ensure their practices are not just good for the Earth, but for the people as well. "Our mission has been showing the world the wonder of Japanese tea in food and beverages and to improve people's lives. We create tea to be enjoyed by you daily, but for a reason that is larger than taste alone," says Masaaki Sugimoto, who runs operations in Japan and is the grandchild of Zenichi, who founded the company in 1946.
That "larger reason" he speaks of — and the heart and soul of Sugimoto — is a pure mindfulness and care of their customers, the tea farmers, and the planet. We sat down with Masaaki, his brother Kyohei, who runs operations in the U.S., and one of their partner farmers, Kazuto Mukojima, to talk about the sustainability of Japanese green tea.
It's clear that sustainability is not just a business model for the company and for you, but a way of giving back to the world.
Kazuto: Yes. We're a bridge for nature and customers. We have to adjust the production of green tea under these unstable climate changes and deliver great tea leaves every year to the Sugimoto tea company so that they can deliver good quality green tea to the hands of customers. Being bridges of nature to the finished product is a journey itself for them. We're proud to serve this way and to simplify the process so they can deliver the best-tasting and most sustainable tea they can.
Kyohei: Being an eco-friendly operation is not about our business but about our attitude to society and responsibility to the future. If we think only about the business or profit of our company, an eco-friendly operation is not necessary. Producing teas including harvesting, drying, and packaging inevitably release gases and create waste into the atmosphere but we try our best to minimize our impact as much as possible.
In general, what does it mean to make "ethical and sustainable" tea?
Masaaki: From a farmer's perspective, the current Japanese tea industry is in an exceedingly difficult situation due to continued deflation of the tea market. Many tea farmers cannot generate enough income and stop making teas. If this situation continues, only a few large tea farmers can survive, and the quality tea-drinking culture would disappear from Japan. To be ethical and sustainable for all our stakeholders, we need to elevate the demands for our small tea farmers and make sure that they can receive a reasonable return from the tea making.
One amazing way you are helping the planet is by offering biodegradable tea bags since 2014. Tell us about them.
Kyohei: Most of our tea bags are biodegradable which are made mainly from corn. Tea bags were tricky products for environment-friendly customers. Tea itself was, of course, compostable, but tea bag materials usually consisted of several materials including non-compostable plastic. Now, our compostable tea bags are 100% biodegradable, so you can toss it to a yard waste bin.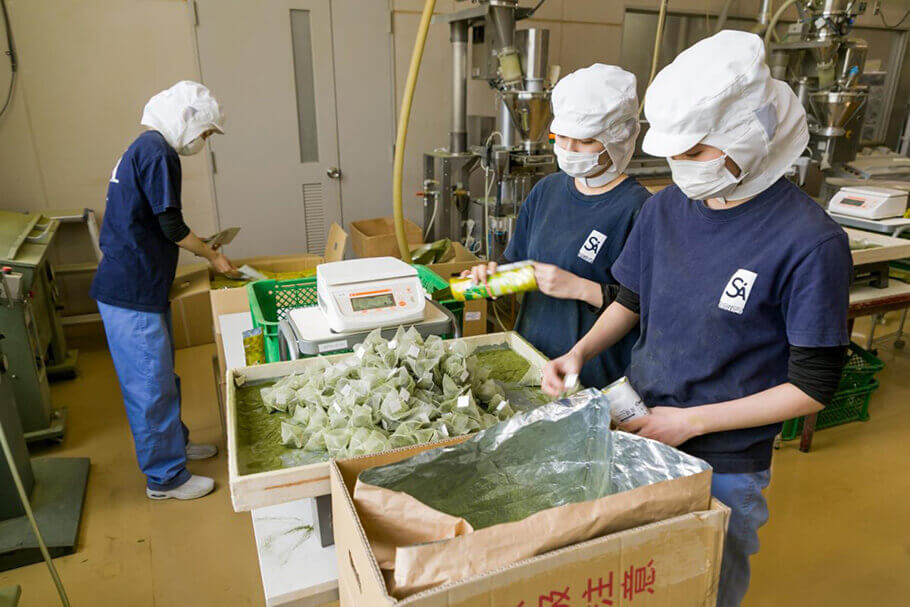 How has switching to solar panels helped?
Kyohei: The generated electricity is sold to a local power company and results in covering a part of our electricity bill. Our factory has solar panels on the roof and all inside lighting is LED to reduce electricity usage. Also, in 2015 and 2017, we invested in new Hi-ire (which means "roasting") machines to heat and process our teas. Hi-ire machines kill off any bacteria and also enhance the flavor of the tea, however they are one of the most energy-intensive machines in the factory. Our new machine uses significantly less energy. Also, our U.S. office is 100% covered by green energy.
Tell us about the chagusaba method that some of your partner farmers use.
Masaaki: Chagusaba is "partly natural and partly man-made grassland" and a cultivation method that uses dried grass as mulch for tea shrubs. This method is a traditional tea farming technique to make tea in the Higashiyama region of Kakegawa city [in Shizuoka, Japan], but it also helps the environment. Chagusaba, pampas grass fields, are intentionally kept around tea fields. Once a year, farmers cut, dry, and shred the grass and put them between tea plants as a natural fertilizer. From the farmers' perspective, this has been important simply to make delicious teas for generations.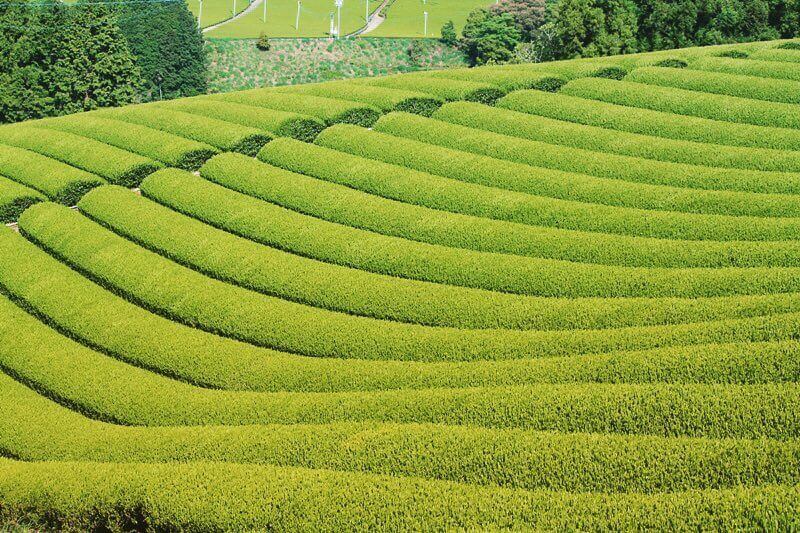 How does it leave a positive environmental impact?
Masaaki: In recent years, scientists found there were many endangered species protected in chagusaba. The lifecycle of chagusaba creates a suitable but rare environment for these endangered species. If we stop making tea there, chagusaba will disappear, and, as a result, the endangered species won't survive. In 2013, the method was recognized as a Globally Important Agricultural Heritage System (GIAHS) by the United Nations. This is to encourage the farmers to continue the tea farming, so the local environment will be protected.
One last question before you go! We've noticed you have shared so many different ways to enjoy Japanese green tea on your Instagram. Can you let us know what is one of your favorite recipes?
Kyohei: The Matcha "mocktail" is very easy and great for everyone. The recipe is…
— 4 Mint leaves
— 2t Lime juice
— ½t Matcha
— 1 cup water
— 1t maple syrup
It's easy to make – just muddle together the mint leaves and lime juice and then combine with the rest of the ingredients and pour over ice cubes.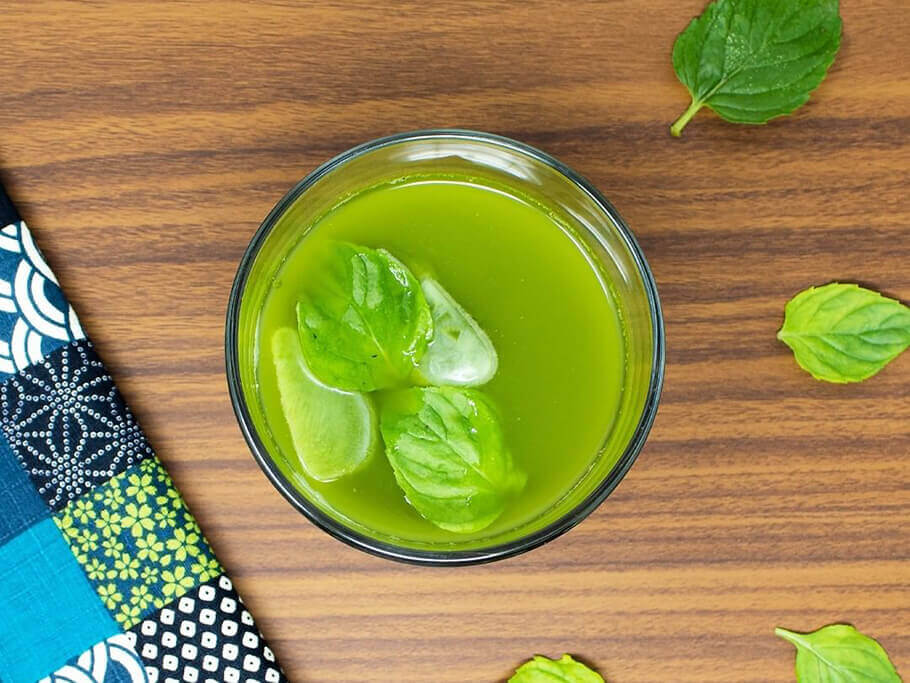 Any final thoughts on your journey with Japanese green tea?
Kazuto: I drink it to simplify my mind. And, it helps with digestion and relaxation. It helps to nurture the nature. The tea flowing through your body is nurturing in and of itself, and you can feel the nature within.
Whether you drink it for the health benefits, for the sake of the planet, or for a way to simplify yourself, it's clear that the gifts that come from Japanese green tea just keep on coming. Continue your journey with us right here and on social media: @justteayourself.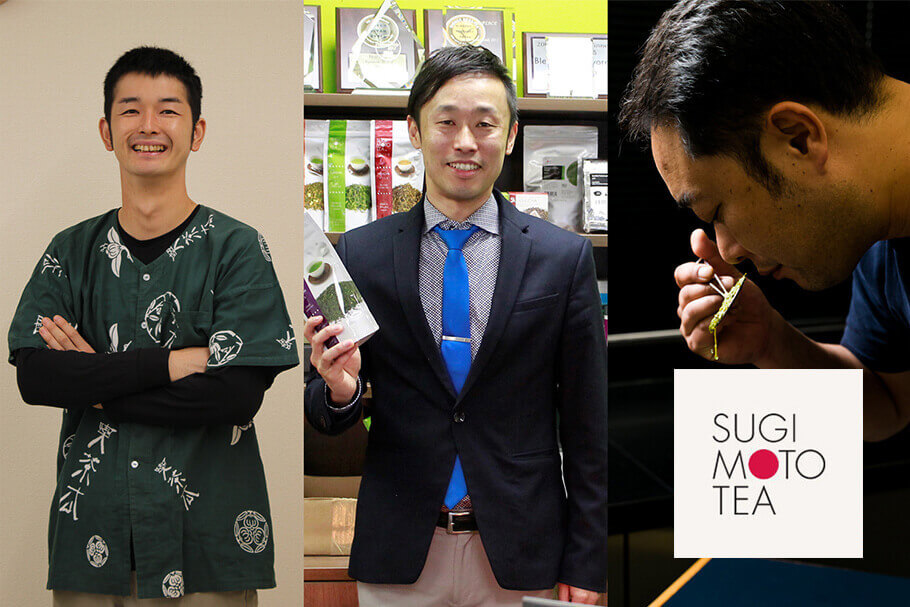 Kazuto Mukojima, Kyohei Sugimoto & Masaaki Sugimoto