Beginning business in 1947, Tokunaga Seicha is located in Ureshino, Saga Prefecture, in the southern island of Japan, the main production area for Ureshino tea. We spoke with Tokunaga Seicha's third-generation proprietor, Kazuhisa Tokunaga, and his Slovenian wife, Vera Tokunaga, about the charm of Ureshino tea and the differences, as well as the similarities in tea culture between Slovenia and Ureshino, and how they're building a bridge between the two.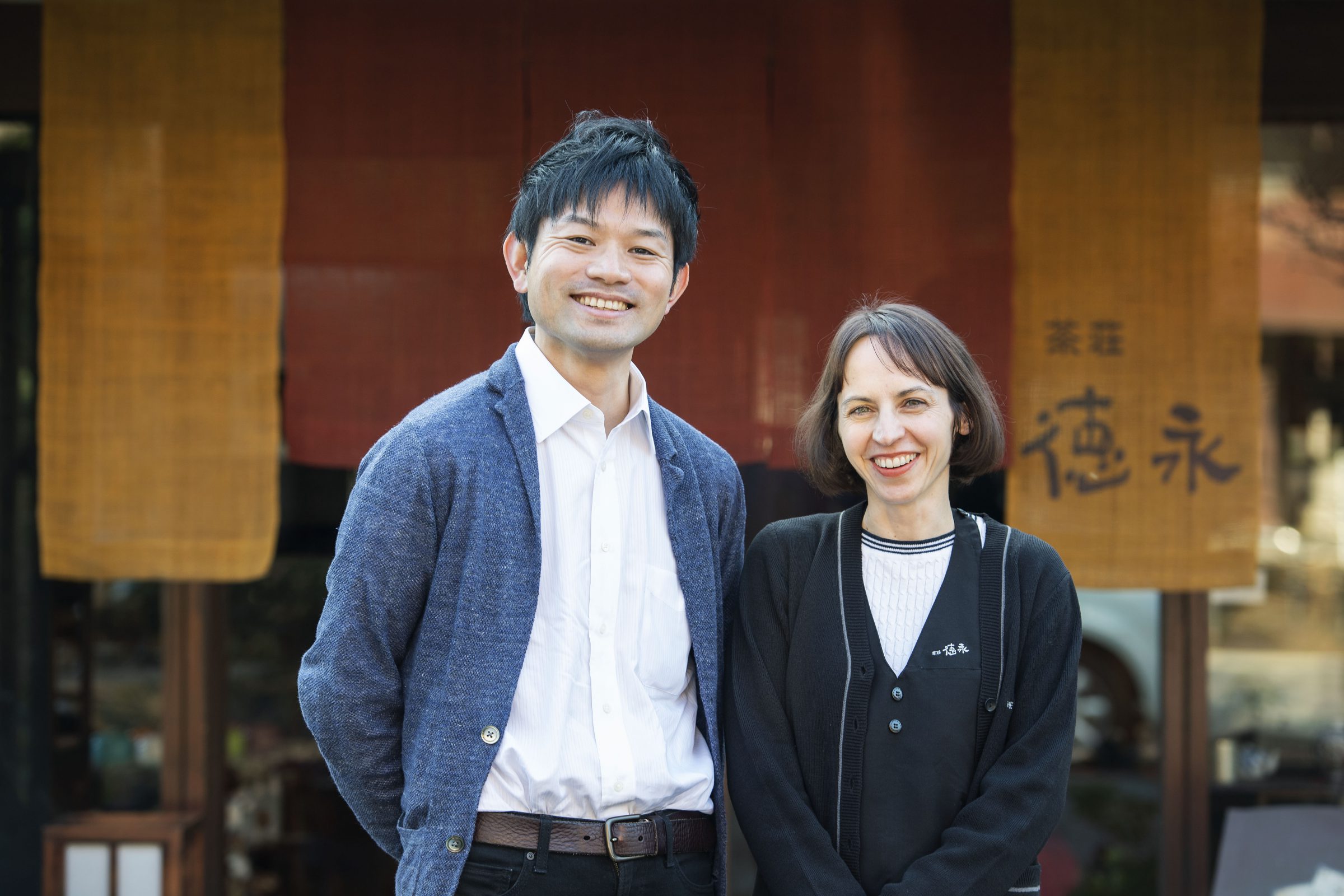 Left: Kazuhisa Tokunaga
Right: Vera Tokunaga
- First of all, could you give us a little background on Ureshino tea?
Kazuhisa: Ureshino tea is a Japanese green tea produced mainly in Ureshino City, Saga Prefecture. It's a tea classed as Tamaryoku-cha because of the round shape of the tea leaves, and also known as Guri-cha because of its curled, uneven appearance.
Tamaryoku-cha (Guri-cha) is produced in two ways – Kamairi-sei Tamaryoku-cha (Guri-cha), in which the harvested leaves are heated in a pan to prevent oxidization, and Mushi-sei Tamaryoku-cha (Guri-cha) in which the leaves are steamed.
Not only Tamaryoku-cha but most Japanese green tea on the market today is made using the Mushi-sei (steamed) method. At Tokunaga Seicha, though, we continue to produce and sell Kamairi-sei (pan-roasted) Tamaryoku-cha made using the traditional Kamairi-sei method, which they say was introduced to the Kyushu area from China about 500 years ago.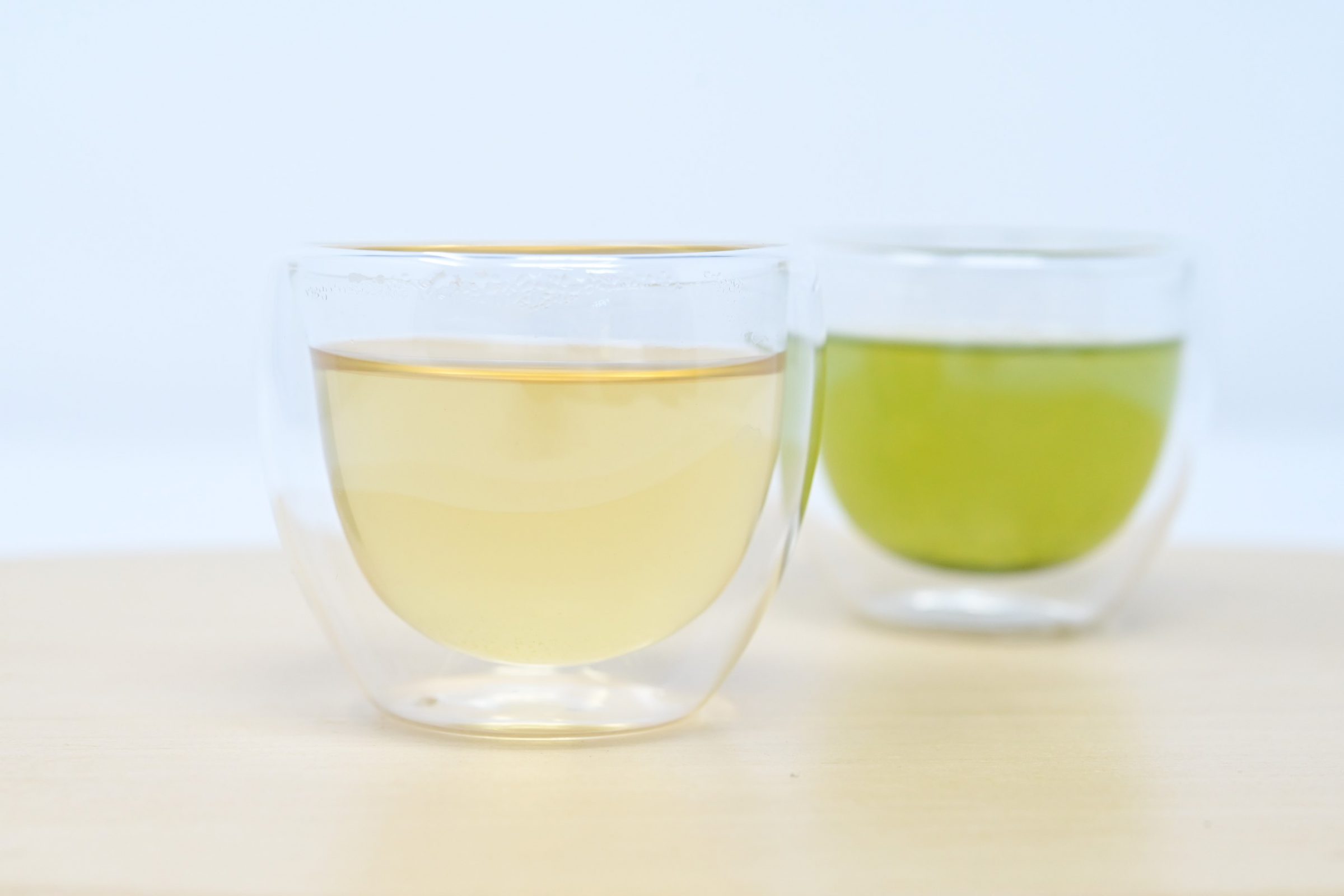 Left: Kamairi-sei (pan-roasted) Tamaryoku-cha green tea
Right: Mushi-sei (steamed) Tamaryoku-cha green tea
Kazuhisa: Tamaryoku-cha needs to be processed while the tea leaves are still soft to keep their rounded shape. Because of this, the buds are picked at a relatively young stage. As well as this, the leaves are covered before harvesting - shading them inhibits photosynthesis, improves the tea's quality, and helps give the tea its characteristic umami taste.

Steamed teas have a fresh and sweet aroma that goes to the nose, and a refreshing richness, so they can be enjoyed during or after a meal. Kamairi-sei (pan-roasted) teas have a sweet and refreshing aroma, called kama-ka, which is not found in most sencha teas. The taste is pleasant and invigorating, and it's also recommended as an everyday tea.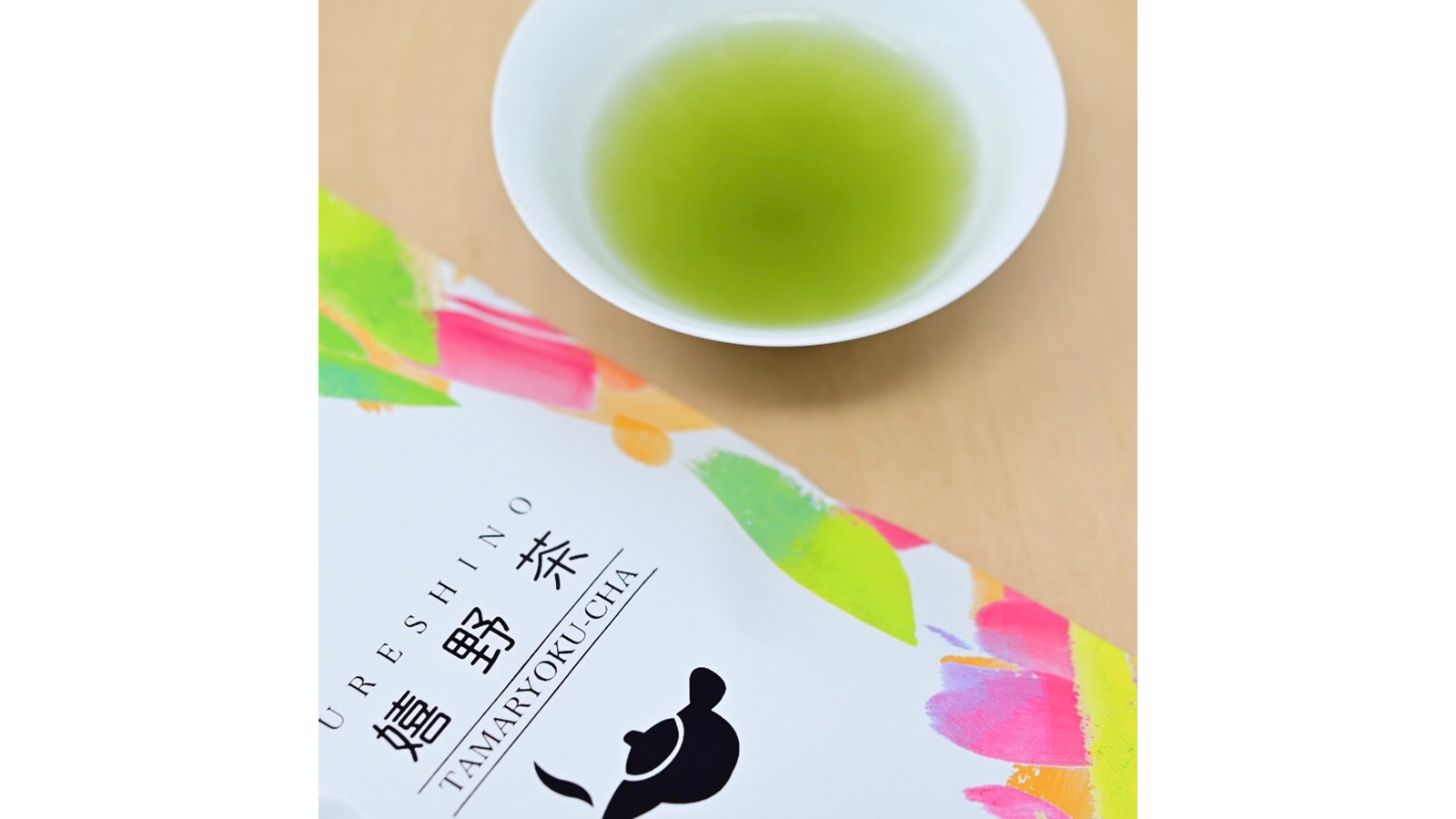 - Vera, how did you end up moving from Slovenia in Europe to Ureshino?
Vera: I've always been interested in the languages of different countries, and Japanese in particular always seemed exotic to me, so I majored in it at university. I came to Japan to study, and that's how I met my husband. We moved to Ureshino in 2008 when we got married, and we've been living here for 14 years this year.
- How do you recommend Japanese green tea to the various customers who visit your Tea House Tokunaga tea shop?
Vera: Different customers are interested in different aspects, so we present the teas depending on that. If a customer wants to know about the area where we produce tea, I tell them about that. If they're interested in the production, I will explain our production methods.
It's challenging trying to help customers understand umami, and the fact that the actual word 'umami' is also used in English, and not replaced by another word, shows how unique it really is.

Kazuhisa: I feel that different people perceive umami in different ways. After a tasting, some customers ask, "What's the salty-tasting part?" or "What's the sweet-tasting part?" It isn't easy to describe umami in words, but by letting our customers taste our teas, we try to help them understand it. One of the key aspects of our introduction to Japanese Green Tea is the fact that the taste differs depending on how it is brewed, and we listen to our customers' preferences and teach them how to brew their tea to suit that. Of course, each product has its own base flavor, but one of the appeals of Japanese Green Tea is that the flavor varies according to the brewing time and water temperature, allowing you to find your own personal taste.
- Please tell us about Tokunaga's original Chamomile Green Tea.
Vera: I'd always wanted to create a tea that blends the herbal teas people drink daily in Slovenia with Japanese green tea, combining the tea cultures of both countries. It took roughly nine months of trial and error, adjusting the roast and the blend. The result is Chamomile Green Tea, a combination of the chamomile popular in Slovenia, and Ureshino tea.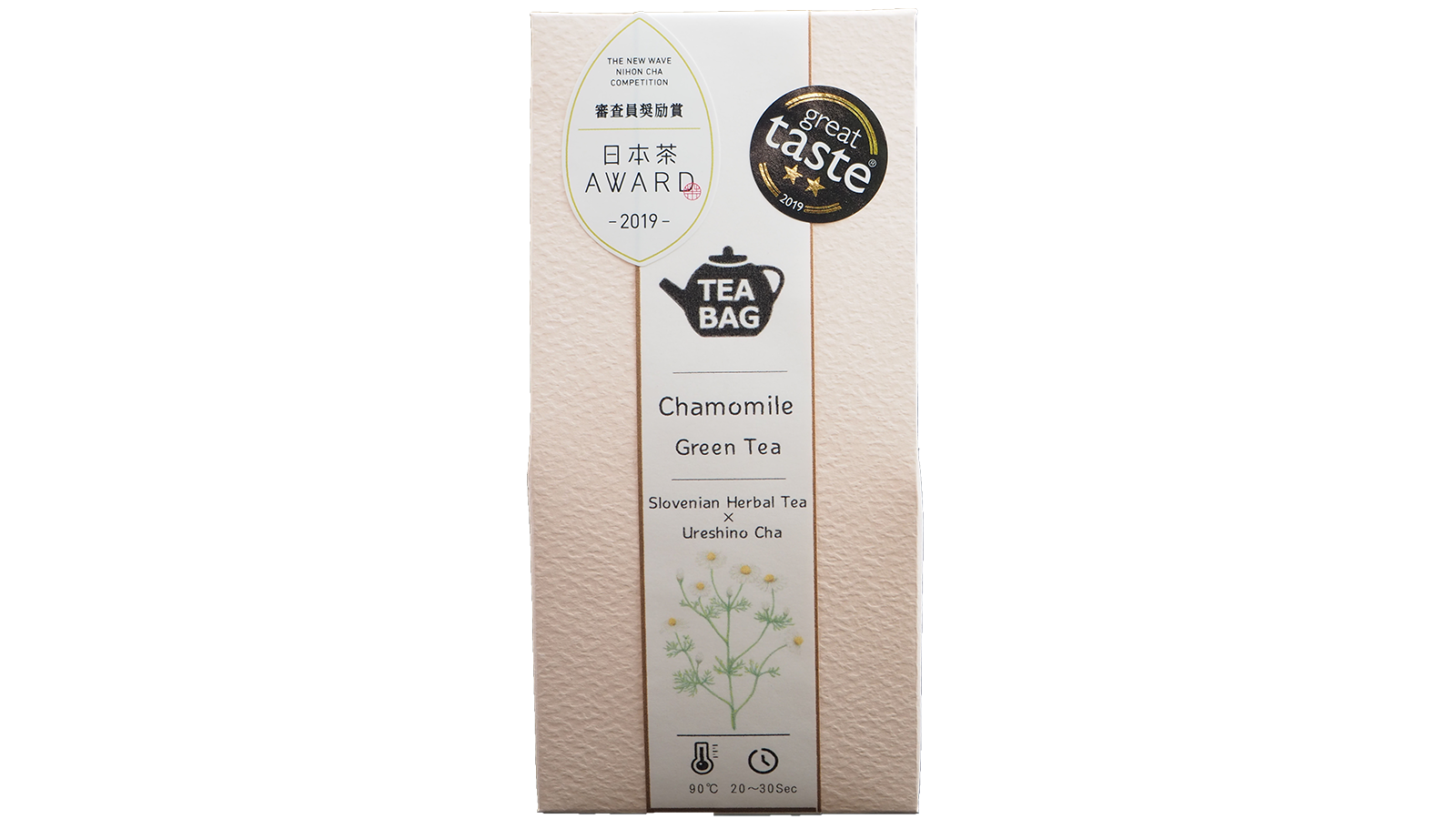 Chamomile Green Tea (Japan Tea Awards 2019 Jury Encouragement Award. Great Taste Award 2019 Two Stars)
Kazuhisa: Since we were developing an original tea, we wanted to find a balance between the two teas that would bring out the best in each other. We also adjusted the Ureshino tea roast specifically for the Chamomile Green Tea. Our Chamomile Green Tea was so well received that it won the Jury's Encouragement Award at the Japan Tea Awards 2019 and also two stars at the Great Taste Awards in the UK, which is rated as 'outstanding'. The theme of the festival was the fusion of tea cultures, so we're very honored to have won the title at both the Japanese and European awards.
- How do you usually drink tea in Slovenia?
Vera: In Slovenia, it's common to enjoy tea after a meal or just when relaxing. Since I moved to Ureshino, I've been drinking Japanese green tea with breakfast, lunch, and dinner. In Slovenia, people may choose a herb tea according to their physical condition, mood, or setting, in the same way as Japanese green tea.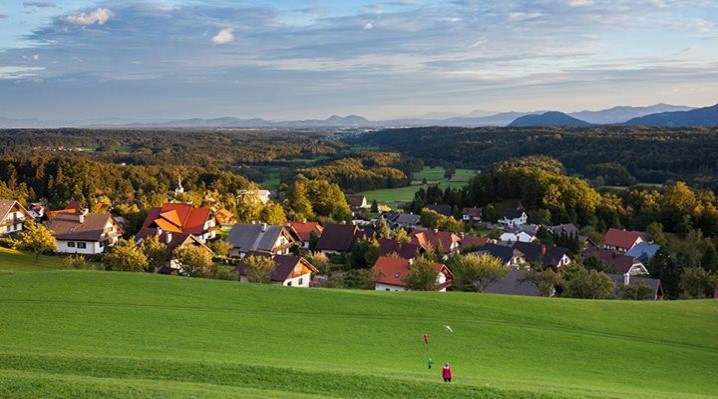 Vera's hometown in Slovenia, near her parents' house
Kazuhisa: Looking at supermarkets in Slovenia, you often see a variety of herbal teas sold in variety packs, suggesting that many people choose a tea according to the benefits of the herbs.
This year marks the 30th anniversary of diplomatic relations between Japan and Slovenia, and to commemorate this anniversary, we've developed a new tea called Sage Hojicha, which is a blend of Slovenian sage and Ureshino hojicha.
It's a refreshing, pleasant, and fragrant tea that feels refreshing in the mouth too, when you drink it.

We hope we can continue to introduce Slovenian and Japanese cultures through tea.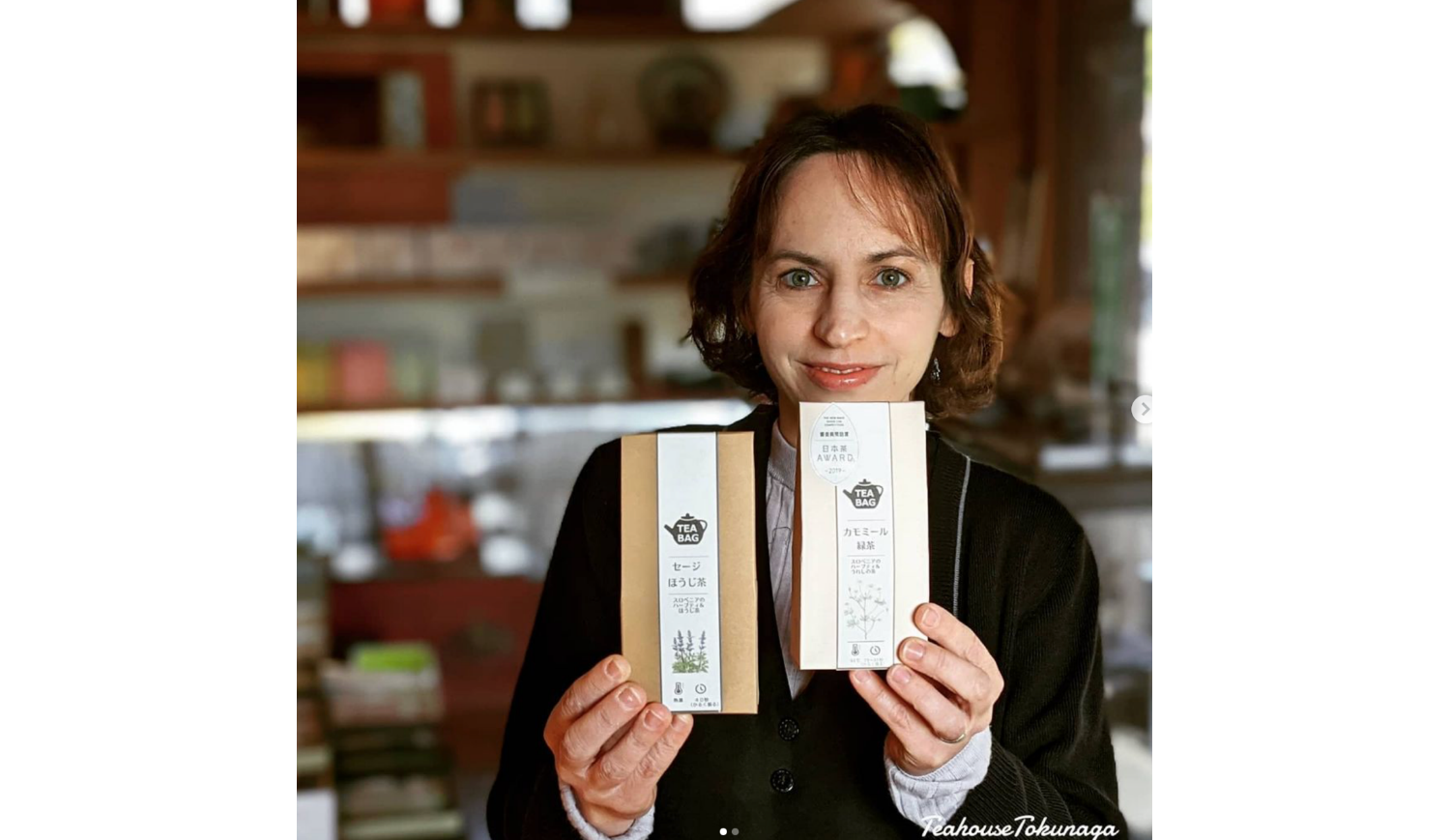 Left: Sage Hojicha tea
Right: Chamomile green tea
- Finally, What does it mean to drink Japanese green tea for the two of you?
Kazuhisa: As a professional, I drink Japanese green tea on different occasions for different purposes, but I always try to value the act of brewing. I try to brew Japanese green tea in the same way every time so that it tastes the same, but it still depends on my condition on any particular day, and the act of brewing can show me how I'm feeling. It's maybe something like having a dialogue with yourself. If you brew Japanese green tea when you're rushed or irritated, it won't taste its best.
The first cup of Japanese green tea I brew after waking up in the morning is the most focused part of my day. Making a satisfying cup of Japanese green tea, I feel like the day ahead is going to be a good one.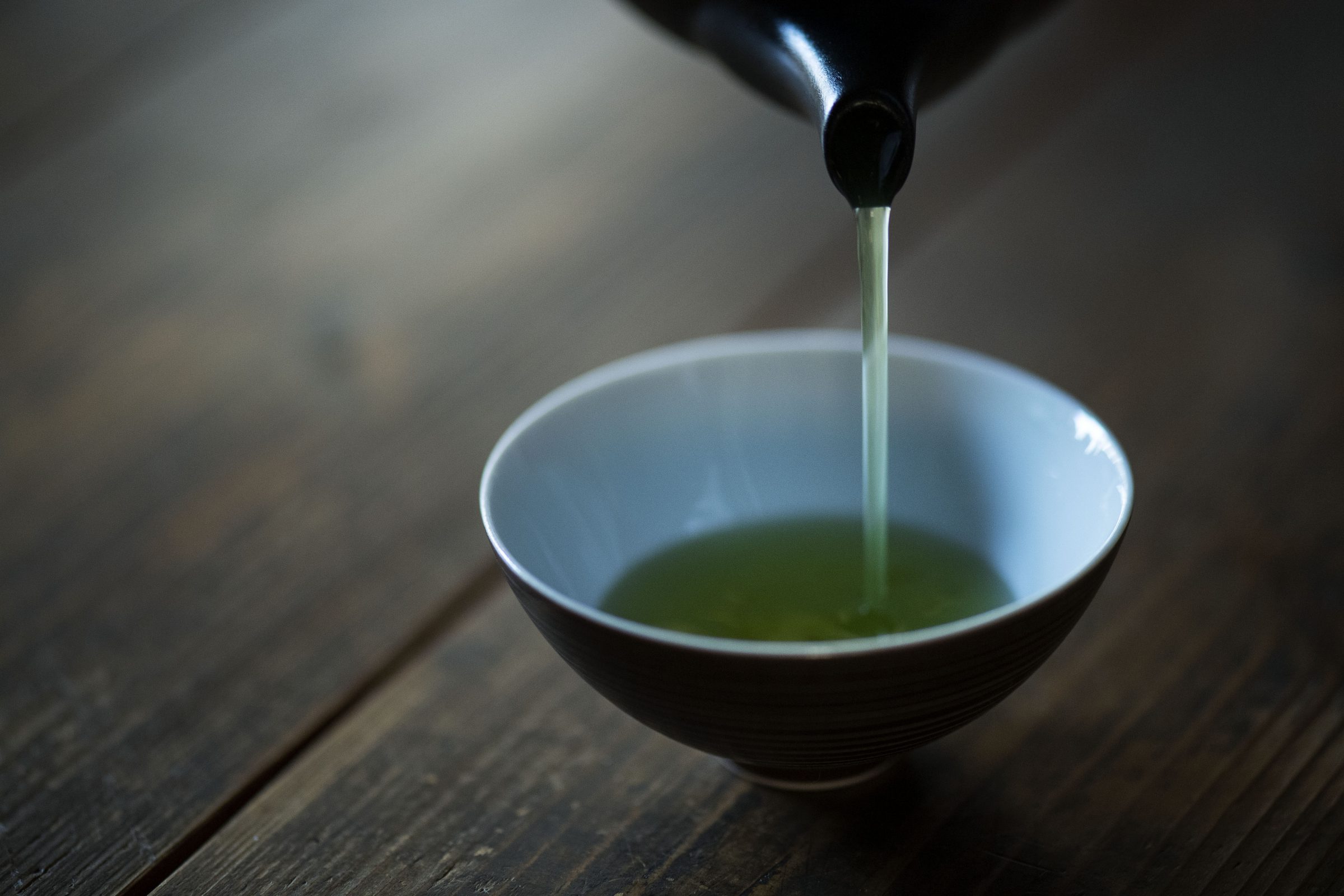 Vera: For me, Japanese green tea is everything. When I married into a Japanese green tea house, Japanese green tea became my work, and it became my life - Japanese green tea became a natural part of my surroundings.

Kazuhisa: In Japanese, we have a phrase "the tea and rice of everyday life," meaning predictable, everyday things barely worth mentioning. She probably understands the meaning of that better than anyone else.