ITO EN is a manufacturer of tea products and soft drinks that handles roughly a quarter of Japan's total unprocessed tea production. We spoke with Kazuma Kobayashi, International Business Development Section Manager at ITO EN, and one of their contract farmers, Shogo Horiguchi, Executive vice president at Horiguchi En, about their efforts in cultivating a sustainable tea industry.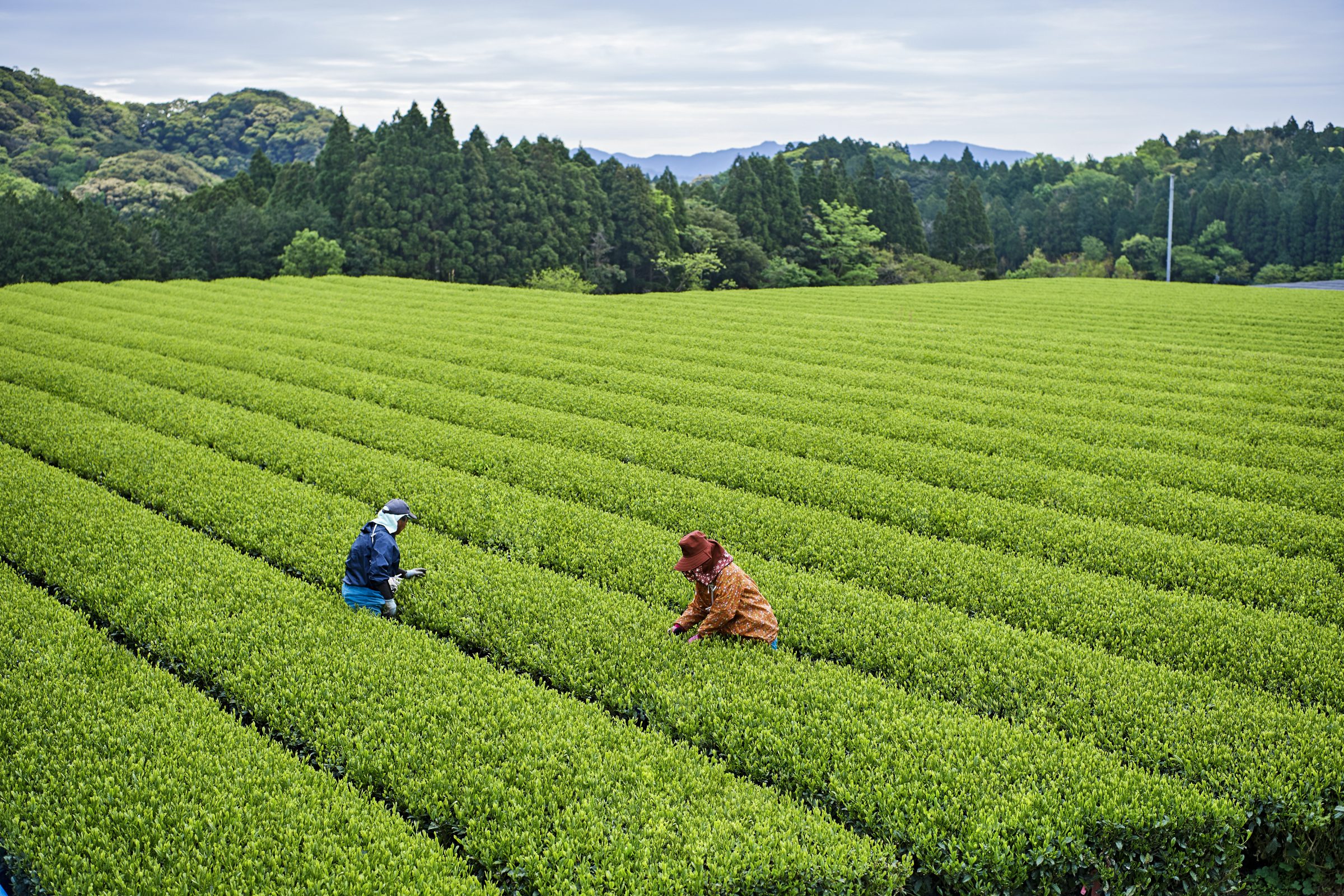 -Please tell us about the tea production region development project that ITO EN is involved in.
Kazuma (ITO EN): We are working on a unique tea production area project based on a sustainable agriculture model. One of the initiatives is contract farming, which allows us to buy all the high-quality tea leaves produced by the farmers and provides stable management and job creation for the growers.
Contract farming started in 1976, and the area has been increasing every year, reaching about 1,700 hectares (4,200 acres) in 2020. Since 2001, we have been working with local authorities and businesses to develop new tea production areas by converting abandoned cultivated land into tea plantations. By 2020, we had developed tea production areas on 500 hectares (1,235 acres) in eight districts across six prefectures, bringing the project's contracted cultivation area to around 2,200 hectares (5,436 acres).

Kazuma : We're also promoting labor-saving using mechanization and IT in tea plantation management. Shogo will tell you more about this aspect. As an environmental initiative, we measured the amount of CO2 absorbed and fixed by tea plants in 2008 and found that each hectare of tea plants absorbs and fixes 92 tons of CO2 per year. We're working hard to develop organic farming techniques. We also believe that the more we can expand our efforts concerning the tea farming that underpins our core brands, the more we can reduce our environmental impact.
-A 'Used Tea Leaves Recycling System' is one of your environmentally friendly initiatives. What does that involve?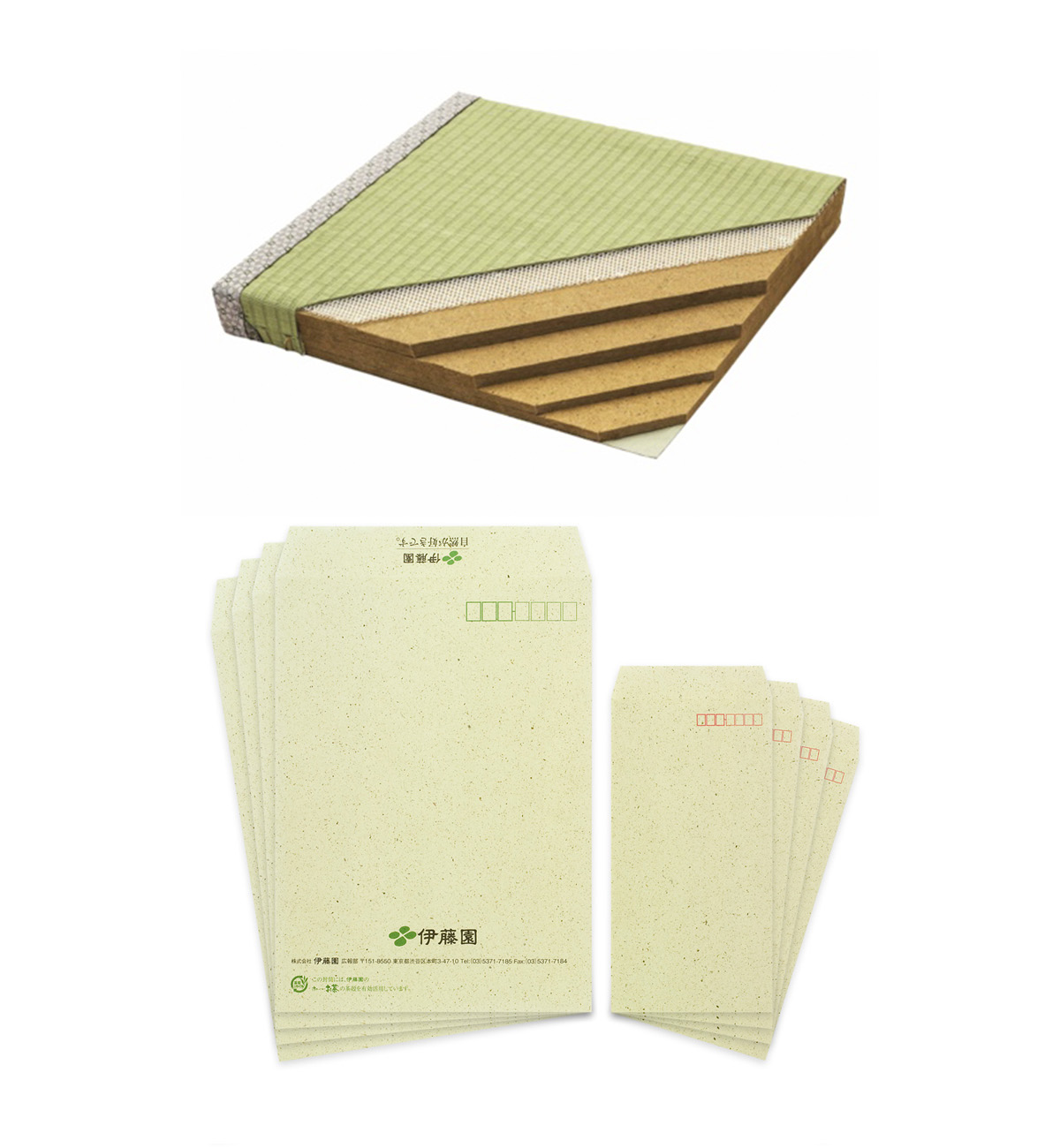 Above: Tatami mats containing tea husk
Bottom: ITO EN envelopes
Kazuma: As of 2020, 54,800 tons of tea husks were generated by beverage products such as Oi Ocha. As well as reusing them as compost or livestock feed, ITO EN established technology in 2001 called the 'Used Tea Leaves Recycling System.' This prevents used tea leaves from decomposing by transporting and storing them at room temperature in their moist state and allows them to be used as raw materials for industrial products.
Tea husks are now used in more than 100 different products, including tatami mats and mask cases, and in paper products such as our employee business cards, envelopes, and documents, which have an aroma of Japanese green tea. The company is unique because it creates valuable upcycled products that take advantage of its deodorizing and antibacterial properties.
-In what ways are you expanding in the United States?
Kazuma: Many of our customers in the U.S. are interested in the fact that not only is it called 'green' tea, but it really is green in color too, so we're developing Japanese green tea around 'Take it Green' as a key phrase. We also have Oi Ocha, the world's most popular unsweetened tea beverage, and we are creating products to serve as gateways to Japanese green tea for customers in the U.S. who are not familiar with Japanese green tea. We have two local U.S. brands, TEAS'TEA and matcha LOVE. The TEAS'TEA range includes herb mixes such as mint green tea and lemongrass, and matcha LOVE tea bags include fruit flavors such as blueberry and apple, so in a way, we're working to build a bridge to drinking authentic Japanese green tea.
-Is the demand for Japanese green tea as a healthy beverage growing?
Kazuma: With the Covid situation, there's been a lot of interest in the health benefits of Japanese green tea. We've also heard from people in Silicon Valley who drink Oi Ocha. They have big goals to hit, so keeping their mind and body in good shape is crucial, and they say drinking unsweetened Japanese green tea is a great way to do this. This also ties in with ITO EN's fundamental idea of enriching customers' lives as we move into the age of the 100-year lifespan.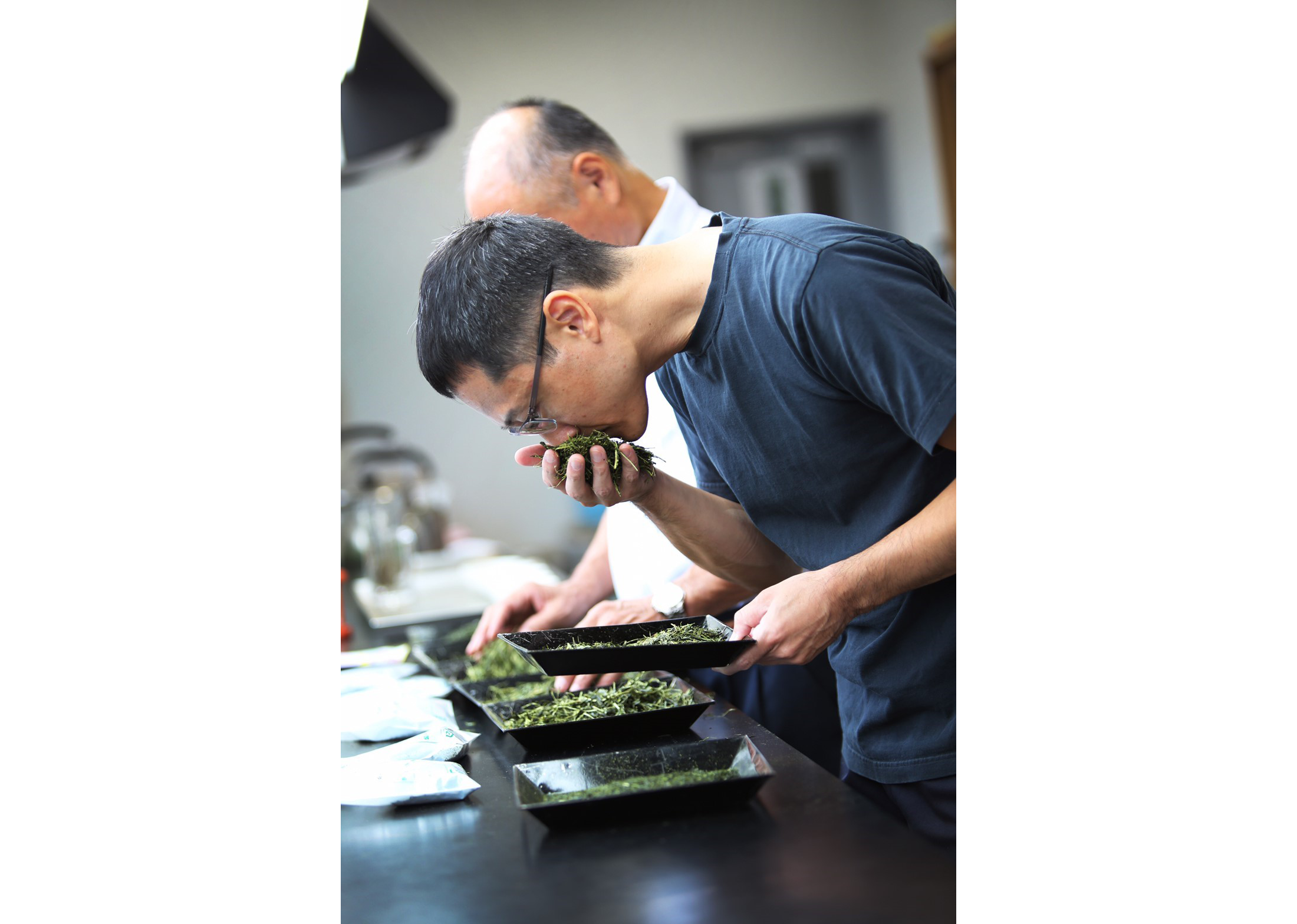 -We also spoke to Shogo Horiguchi of Horiguchi En, one of ITO EN's contract farms.
Shogo: We started working with ITO EN around 1976. At that point, the green tea industry was in its heyday of retailing at specialty stores, but ITO EN was very progressive in market development, working on packaged green tea for supermarkets. ITO EN also believed that it would soon be impossible to meet the needs of consumers simply by sourcing unprocessed tea from the general market, and they began contract farming to develop products from the cultivation and processing stages that would meet consumer needs. Today, in addition to cultivating the raw materials for Oi Ocha, we're working with ITO EN on developing organic cultivation techniques, reducing chemical fertilizers, pesticides, and herbicides, and environmental measures for the future.
-How do you ensure that the quality of your tea leaves is consistent?
Shogo: To improve the efficiency of cultivation, we use tea composition analysis and chlorophyll measurement to complement the sensory test in determining the best time for picking. Numerical management guarantees better control of tea quality. Three to five years of cultivation is needed after replanting, but we can make a solid investment in planting new plants thanks to our contract with ITO EN providing a stable income. As Japanese green tea trends change, we're very grateful to be able to systematically replant varieties based on medium- to long-term needs.
-Please tell us about Integrated Pest Management (IPM), an advanced pest control initiative.
Shogo: Integrated Pest Management (IPM) uses an integrated approach to pest and disease management, rather than relying solely on pesticides. The idea is to reduce the use of pesticides in stages, and replace them with alternative techniques, so that eventually the tea plant itself becomes resistant to pests, also creating conditions that suppress further outbreaks of pests. That's something we're working on right now. One of the alternatives is using large machines such as the Steam Buster, which controls mites. We noticed that mite infestation rates decrease after a typhoon, so we created artificial wind and water with 45mph wind speed to control mites.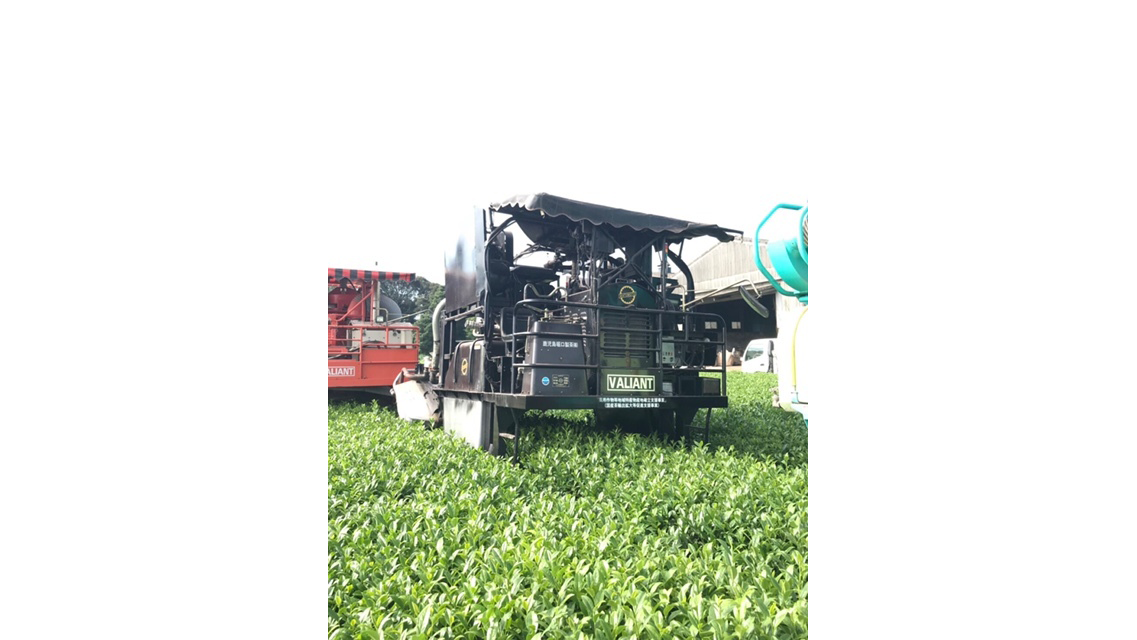 A Steam Buster
Shogo: The Cyclone is another large machine that's run through the garden just before the tea is picked. It sucks up pests and dead leaves and prevents foreign matter from entering the harvest, which would otherwise be a very labor-intensive task. Our contract grower, Kagoshima Horiguchi Tea Company, uses these kinds of large machines.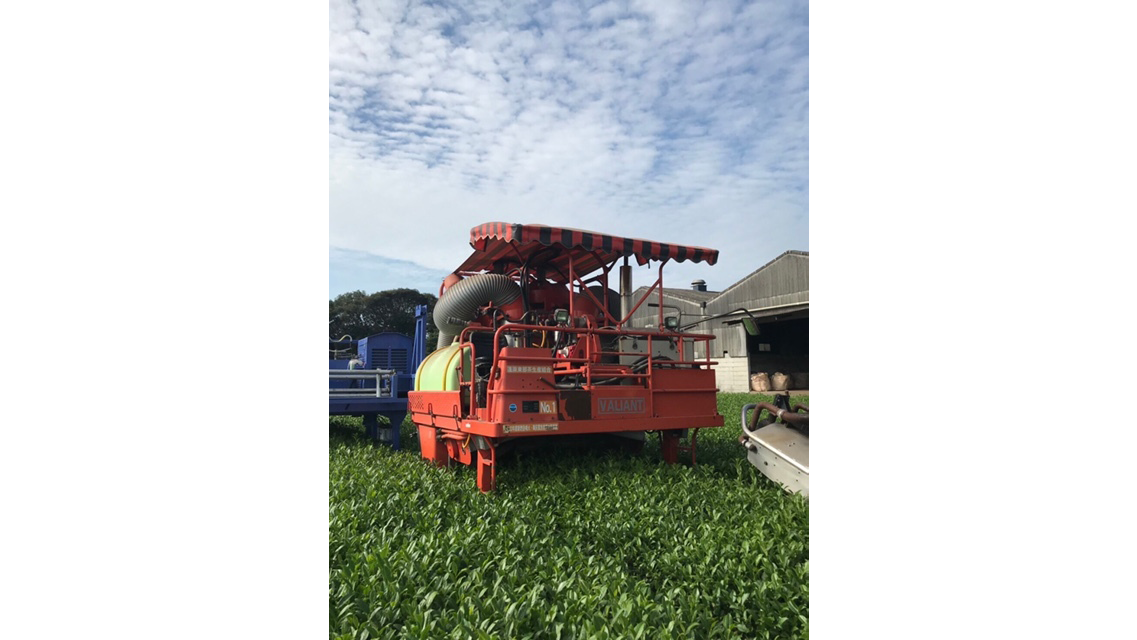 The Cyclone
-Finally, please let us know what drinking Japanese green tea means to you.
Harris Goldman, Vice President of U.S. Marketing also responded.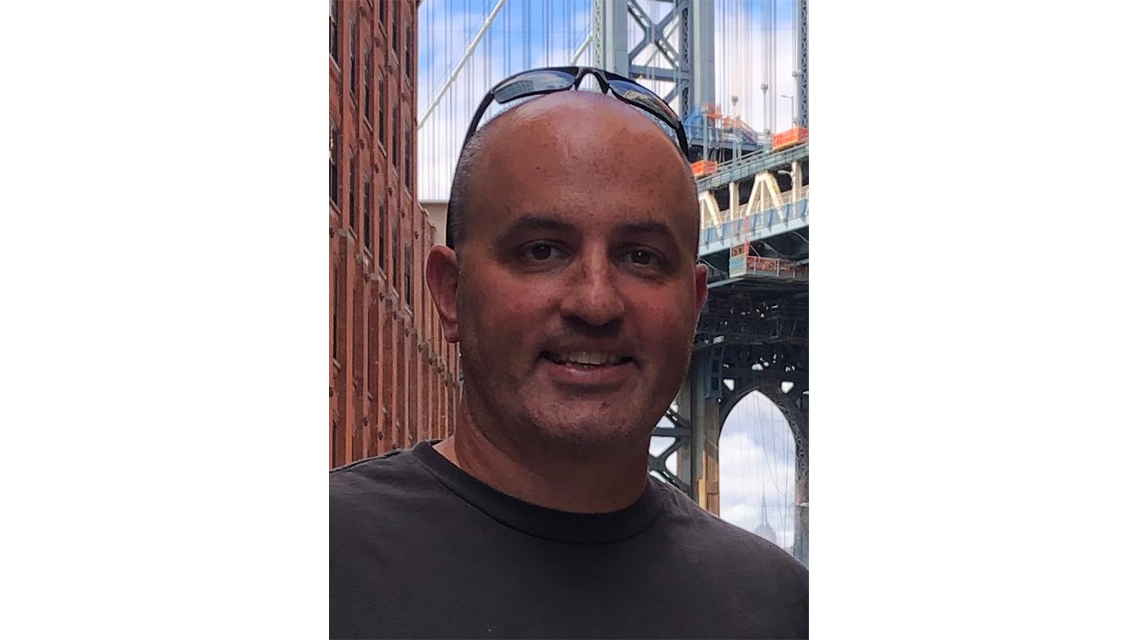 (Sr. Harris Goldman, Vice President of Marketing, ITO EN, North America)
Sr. Vice President, Marketing: Harris Goldman
I try to take a break at least two times per day – once in the morning as I get started with my day, and once in the afternoon as I need some time to balance the many things in my life – to enjoy a cup of Japanese green tea. It is a modern take on an ancient ritual, helping me focus and be present and also reminding me that each moment is precious and not to lose sight of what is important. I also drink Oi Ocha unsweetened Japanese green tea with lunch and dinner when I am at home. It is a delicious and healthy way to enjoy meals, stay hydrated, and also reserve calories for the other foods that I love. I am certain that this mindset is also shared by the younger generation of consumers, both in America and in Japan, who love these ideas and aspire to be more present and mindful in their everyday lives.
Shogo: As producers, we put our heart and soul into making our tea, but we also want our customers to relax and enjoy it.
We believe that Japanese green tea adds color to our lives, and we're delighted if it can bring a moment of calm.
As well as this, we keep producing Japanese green tea in the hope that enjoying it regularly can contribute to healthier lifestyles.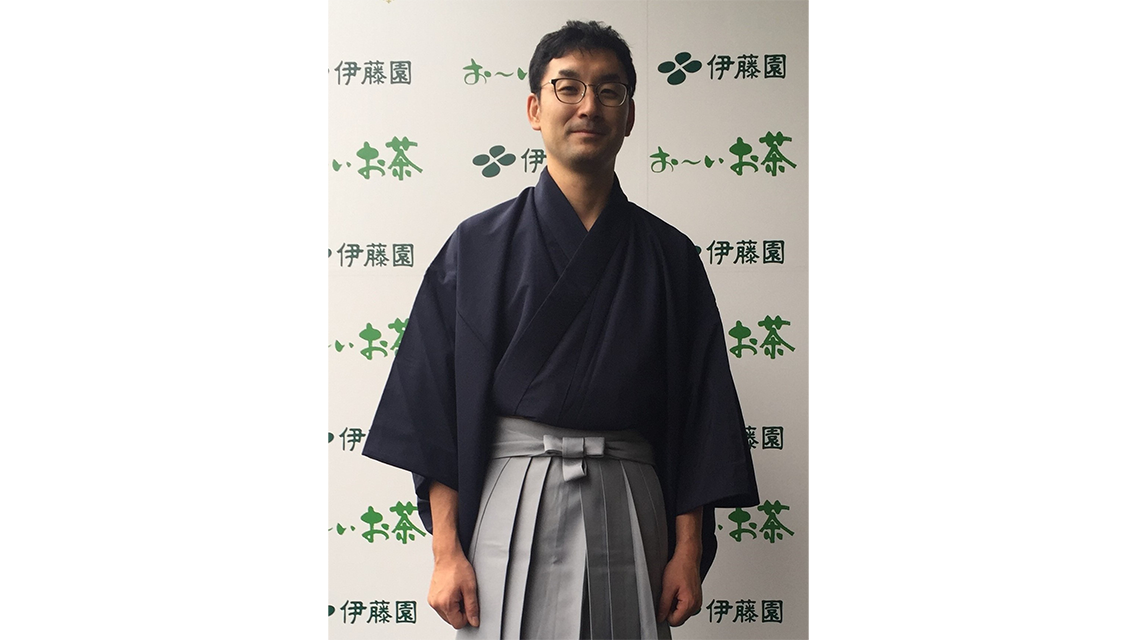 Kazuma Kobayashi, ITO EN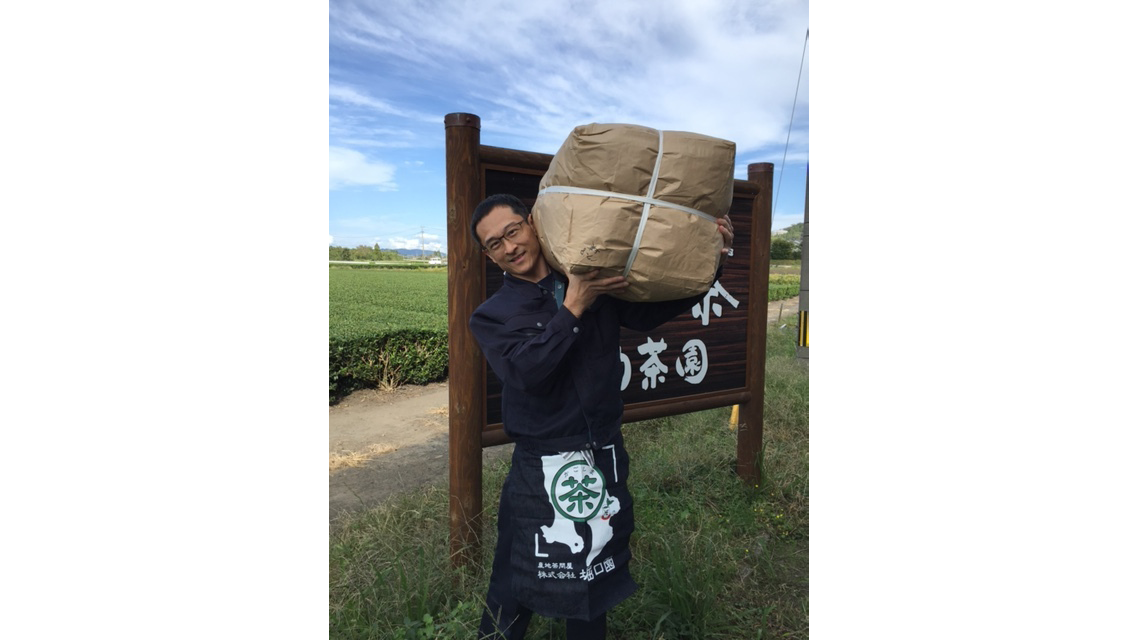 Shogo Horiguchi, Horiguchi En