Interview of Supporter Stores

JUNKO Sushi & Japanese Dining

Offering the flavor and hospitality of Japan with a traditional Japanese-style interior in Qatar

Doha / Qatar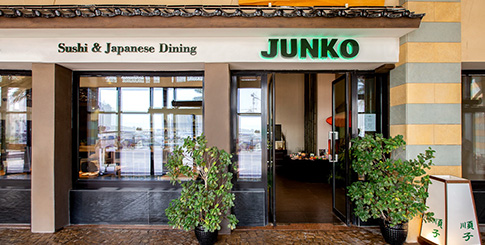 Introducing Japanese food culture to Qatar
In 2012, "Junko" established a restaurant on The Pearl-Qatar, an artificial island constructed on the coast of northern Doha (the capital city of Qatar); The Pearl-Qatar has luxury hotels and resort facilities, and is a place of residence for people from overseas and the wealthy of Qatar. As a restaurant where the customer can eat Japanese food while gazing at the yacht harbor where various cruisers are moored, it is gaining popularity with not only Japanese people living in Qatar but also local Qataris. In particular, it has a lot of repeat customers who are Qataris that have visited Japan.
Ms. Nanri runs an Italian café in Japan (currently Bicerin), and when Sheikh Al Thani of the Qatari royal family visited Japan on honeymoon, he liked the friendly hospitality of Ms. Nanri—who worked at the café—so much that she was asked to open a restaurant in Qatar.
When asked why she decided to open the restaurant, she replied, "The hotel to which I was invited on my first visit to Qatar offered me Japanese tea whose taste was quite different from what you'd get in Japan, so I felt I had to promote the authentic taste of Japan, and therefore made my decision."
The restaurant has a modern exterior, but one step inside reveals a good old retro-style Japanese atmosphere, with most of the interior using items brought from Japan, such as the room decorations made of giant timber bamboo from Kyoto, and the sushi counter, tables and chairs made of hinoki (Japanese cypress) wood. This is because, when offering authentic Japanese food to customers, atmosphere is considered to be important.
An exhibition space is set up inside the restaurant and, although occasional, requests for exhibitions are received. Hence, in the case of fruit, the displayed items may reflect the seasons in Japan, such as pears from Ichikawa, apples from Aomori, strawberries from Fukuoka, cherries from Hokkaido, and Yubari King melons. In addition, the exhibition space is also used by Japanese food business operators, organizations, and local governments, etc., that hold events in Qatar.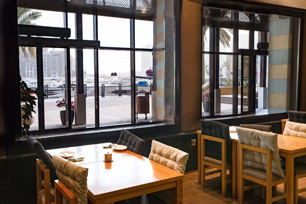 The restaurant is committed to using Japanese-made food ingredients
The restaurant is committed to using Japanese-made food ingredients, and offers a variety of dishes, such as sushi, Wagyu beef steaks, tempura, and ramen noodles. In Qatar, there is an established image of "Wagyu" being beef produced in Australia, and so, in order to allow as many customers as possible to experience the taste of genuine Wagyu beef, the restaurant offers only Wagyu produced in Japan. There is a Japanese anime boom in Qatar, and there have been several requests where customers showed pictures taken with smartphones of the rice balls, curry and rice, or ramen noodles that appear in anime and said, "I want to eat this." This led to rice balls, curry and rice, and ramen noodles being added to the menu, and they became very popular. The nori, curry roux and noodles used are produced in Japan.
Regarding her commitment to Japanese-made food ingredients, Ms. Nanri says, "I regard that as a natural choice, because Japanese-made ingredients are highly reliable, and I came to Qatar based on the idea that I would let people experience the authentic taste of Japan."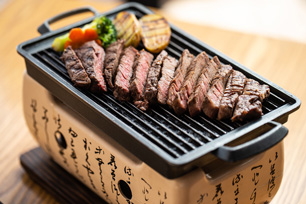 Coaching of employees regarding Japanese-made food ingredients
Other than Ms. Nanri and manager Takemoto, all the staff are non-Japanese, but head chef Doss, who is Thai, has accumulated 10 years of experience working under a Japanese head chef, and is committed to offering dishes that customers can enjoy.
The use of liquor is basically prohibited in Qatar, and so special efforts particular to Qatar have to be made, such as with regard to mirin.
In Qatar, which is a Muslim country, the use of liquor is forbidden even in cooking.
Alcohol-free soy sauce and mirin have to be used, but in order to offer the same taste as in Japan, that taste has to be produced by improvising with the ingredients that can be procured.
In addition, as far as possible, the restaurant fulfills orders from customers for meals that are not on the menu.
Mr. Takemoto says, "I'm always conscious of 'hospitality' so that customers can get a sense of Japan." He makes sure that staff use greetings such as "Irasshaimase" (Welcome) and "Arigatou gozaimasu" (Thank you).
In particular, Arab men wear white robes called thawbs, and so food splashed while eating meals tends to be conspicuous. If soy sauce or some other food is spilled on clothes, the staff show their attentiveness by removing the stain immediately, and in other meticulous ways.
Employees are also educated regarding the characteristics of Japanese-made food ingredients, so that they can always respond to questions about them from customers.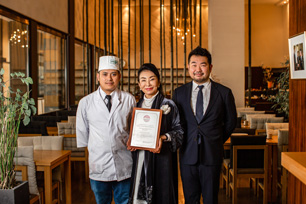 Contributing to the popularization of Japanese-made food ingredients in Qatar
In 2019, the restaurant was certified as a Japanese-made food ingredient supporter store, and those involved are proud to learn that their commitment to using Japanese-made food ingredients has been recognized. The restaurant works hard to provide foods from particular Japanese areas of production, and regularly offers them to customers, such as Shingu-shicho-goyotasshi-meicha "tea that uses Hosuien's special quality tea leaves," apple juice and soba noodles from Aomori, grape juice from Shinshu, crown melons from Shizuoka, and pears from Ichikawa. Ms. Nanri said, "I would like to use certification as an opportunity to work even harder at popularizing Japanese-made food ingredients."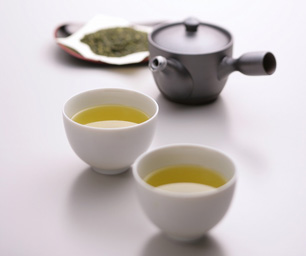 JUNKO Sushi & Japanese Dining

Porto Arabia 178, La Croisette 12, The Pearl Qatar, Doha
+974 4002 8294
http://junko.qa/